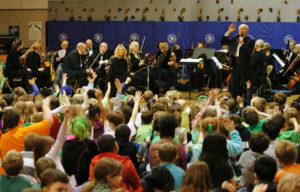 For the 2018-19 school year, the Sinfonia's Music in the Schools program will be "INTRODUCING THE ORCHESTRA"
Serving the musical and educational needs of the citizens of Minnesota is part of our mission. Thanks to support from foundations and individual, the Sinfonia has developed many successful outreach programs over the years.
Music in the Schools is the Sinfonia's exciting in-school program.  You can watch video, review the curriculum, read testimonials and  learn more about it here!
Check out this commentary by board chair Bruce Humphrys in the July 6, 2016 StarTribune newspaper about Sinfonia's programs: READ MORE
2018-19 "Introducing the Orchestra" Info