Community Art Share
While social interaction is on hold, the Sinfonia is mixing the musical, visual, and virtual in a community art share.
We invite you to listen to the mini-concerts posted below, and you, as artists and listeners are encouraged to create companion pieces inspired by the music you are listening to.
Maybe you do a watercolor, crayon doodle, or collage. Maybe you write a poem, throw pottery, make chalk art, or do hair…any creative expression is welcome. Participants can then submit their piece along with a short description to be posted in our online gallery on Facebook.
Ready? Listen below and email your inspired art file to mnsinfonia@mnsinfonia.org.
Symphony No. 1 in c minor, Emily Mayer  (1812-1883)
Born in Germany, Emily Mayer was the third of five children. Her early life circumstances were difficult, as her mother died when she was two and her father shot and killed himself when Emily was 28.
In 1841, Emily moved to Stettin (now Szczecin, Poland) and began studying music composition with Carl Loewe, an important regional composer. In 1847, after the premiere of her first two symphonies by the Stettin Instrumental Society, Emily moved to Berlin where she continued her compositional studies. Soon after, she began publishing works and performing private concerts. In 1850, the Royal Theatre presented an entire concert of her music, which earned critical acclaim. Her musical reputation and career were becoming established, and she continued composing works for public performance.
In 1869, after the death of her teacher, the Carl Loewe Society was formed, and Mayer dedicated two of her cello sonatas to members of the society and their families. Mayer's compositional output included eight symphonies, 15 concert overtures, a piano concerto, songs, and chamber music. There are a few pieces and recordings of her work that can be purchased, but by and large, she and her music are largely unknown. In fact, our Artistic Director found out about her by accident as he was looking for music on the internet and a pop-up arrived suggesting he might like her music…he did and the result is what is heard on this set of performances. 
This symphony is composed in the early romantic style with influences perhaps by Mendelssohn and others of that generation. The Sinfonia is not aware of the availability of orchestra parts for the first symphony, and in fact had to construct and edit a working/performing edition for this set of concerts. Enjoy!
Music from week of May 3
Music from week of April 12
Music from week of April 5
Music from week of March 29
Symphony No. 41 in C Major, K. 551, Jupiter, Wolfgang Amadeus Mozart (1756-1791). Allegro vivace (1), Andante cantabile (2), Minuetto allegretto (3), Molto allegro (4). Recorded live at the Basilica of Saint Mary on Feb 8, 2020.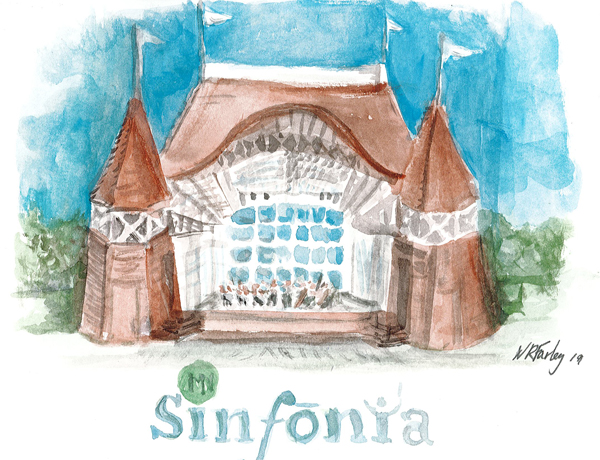 Below are more samples of Minnesota Sinfonia concerts.
---
---
---
---