Music In The Schools

---
TEACHING CORE ACADEMICS WITH MUSIC
The Sinfonia's Music in the Schools (MIS) program excites students by using classical music as a bridge to engage learning in math, history, science, social studies, and literature.
Last year, we served 12,000 students at 20 inner-city elementary schools, and since the program began in 1989, more than 150,000 Minnesota students have participated!
View the Music in the Schools video below to learn about this exciting educational program.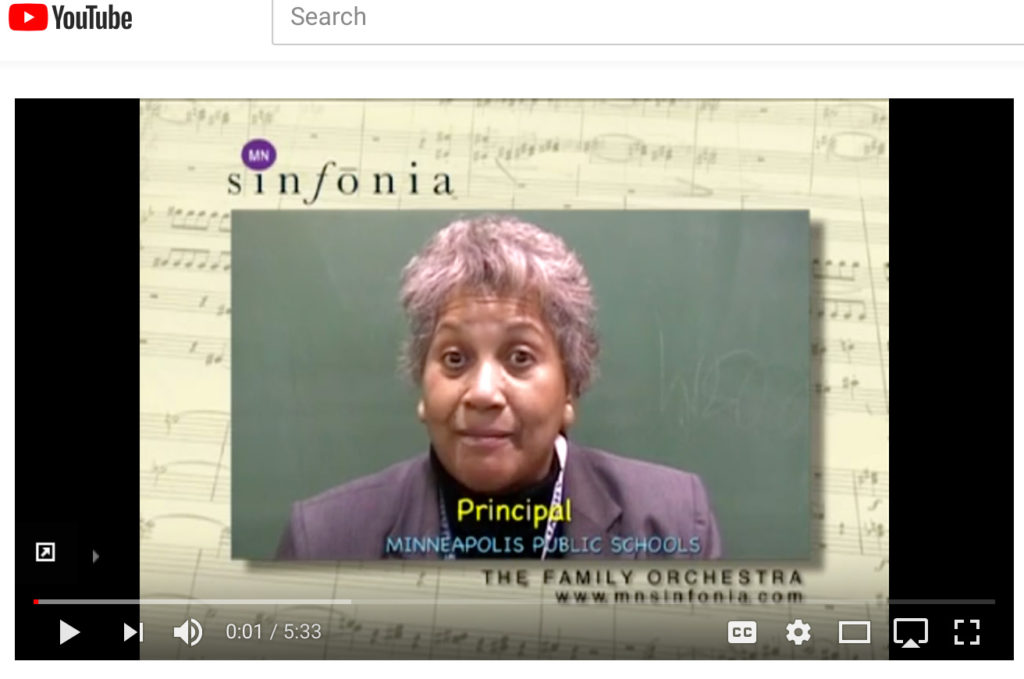 HOW DOES MIS WORK?
MIS is based on MN state academic standards. The three-month curriculum was co-developed by the Sinfonia with input from local teachers and focuses on a different core academic subject each year. Past programs include:
SCIENCE: "Water-One of Our Most Precious Resources"
Ludwig van Beethoven's "thunder storm scene" from his Sixth Symphony, and other great masterworks by Handel, Chopin and Dvorak excite young students in learning about water—some schools even built model water purification systems!
LITERATURE: "Music Tells A Story"
Students study and see great literature come to life through the music of Tchaikovsky, Mendelssohn and other famous composers.
HISTORY: "History as Seen Through Music"
From the American revolution through the Civil War and into the 20th century, students are enthralled by music that reflects these important historical markers, including a special emphasis on the "life and times of Benjamin Franklin."
MATH: "The Magical Mysteries of Math & Music"
Franz Joseph Haydn's "Surprise" Symphony and other well-known classical works help explain a variety of mathematical concepts.
SOCIAL STUDIES: "Music From Other Lands"
Classical music based on folk songs explores diverse people and cultures while reinforcing state-mandated vocabulary and map-reading skills.
BIOLOGY: "Animals – Our Fascinating Other Neighbors"
Musical depictions by Haydn, Mussorgsky, Saint-Saens and Rossini, all describe the many important uses and services that animals provide to us.
SCIENCE: "Introducing the Orchestra"
Explains how the wonderful sounds of the orchestra's instruments are created, and how they are combined to produce the glorious music of the Minnesota Sinfonia.
---
SINFONIA DAY!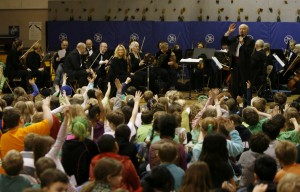 Each program culminates with SINFONIA DAY—a visit from the entire MN Sinfonia orchestra. Musicians visit classrooms to interact with students, show and explain their instrument, and share stories. Then, everyone gathers in the gym for a fun, interactive concert highlighting the music and classroom activities from the preceding weeks. School choirs and orchestras perform with the Sinfonia for their peers, parents and community members, all to rousing cheers from friends and fellow classmates.
PARTICIPANTS SHARE THE LOVE



That was a WONDERFUL experience for our classroom. The students were very engaged. I would totally love for them to come again. None of my students had ever visited a live orchestra and were very excited during the performance. –Kathy Clennon, Special Education Teacher, Bridge View School
Wow! Thank you for a quality educational experience. What a treat! – Fifth Grade Teacher at Jefferson Community School, Minneapolis Public Schools
This really is the finest musical experience we have. Some of my students are already asking their parents to bring them to one of your concerts! – Anonymous Teacher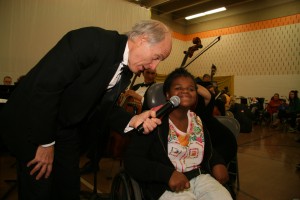 The performance was a tremendous hit with everyone. I can't thank you enough – Colleen Baumtrog, Principal, Minneapolis Public Schools
Thank you for coming to our school. Your performance was terrific! I loved your music…Your Band was wonderful! All the kids was clapping… Our school was so glad to see you… It was fun hearing all of your beautiful sounds of your instrument's! I just loved the music. – Excerpts of letters from students from Minneapolis/St. Paul Schools
WANT TO ATTEND A MIS SCHOOL CONCERT?
Experience SINFONIA DAY for yourself! Contact the Sinfonia office for a schedule, then contact the appropriate school at least one week before concert day in order to gain security clearance from the schools.
PROVIDED FREE TO SCHOOLS & STUDENTS
Music in the Schools is offered free of charge to schools. This amazing program is supported by generous foundation and corporate grants and by contributions from hundreds of Sinfonia contributors.
HOW YOU CAN HELP
The Sinfonia's commitment to our public schools is total and unwavering. The orchestra works with over 20 schools and 12,000 children every year, and our goal is to increase those numbers to 40 schools and 25,000 children annually!
It's easy to contribute! You can contribute today, and learn about donation options on our Donate Page
THANK YOU! Together, we make beautiful music.
---