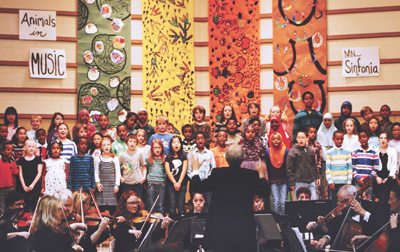 For the 2019-20 school year, the focus is on animals!
Animals: Our Most Fascinating Neighbors focuses on science and related literature, how people interact with animals, and how we as musicians have used them as an inspiration for some of the music we create and perform. The complete MIS curriculum includes
Curriculum Packet (download below) of State mandated benchmarks and activities for science and language arts for each grade level K though six can be supported by using our materials. The Sinfonia welcomes new ideas, so please send us any suggestions you think we could include for the next time we use this curriculum,
Master listening CD (schools receive the CD once accepted), including music the Sinfonia will perform, and recordings of songs the students should learn to sing with the orchestra on concert day. Please use this CD in your classroom daily, and feel free to add other classical recordings as you think appropriate,
Choral sheet music for student choirs (download below). Old McDonald Had a Farm and the Somali song, The Butterfly are songs that your school choir will perform on concert day with the orchestra. For schools without choirs, the children in one or two grades can serve as the choir. If you cannot play the accompaniments on a piano, then please use the computer-generated accompaniments at the end of the CD when teaching children the music.
School orchestra sheet music (download below).
---
PLEASE help the Sinfonia continue to secure funding for the MIS program, which is provided FREE OF CHARGE to the schools and students by completing the survey after the "Sinfonia Day," concert at your school. It only takes a few moments to answer a quick SURVEY with 10 easy questions about your students' MIS experience. Your input is important! THANK YOU!
DOWNLOADS
Click on the links below, then click on the image to download.
TEACHERS curriculum packet:
Curriculum Guide: Animals, Our Most Fascinating Neighbors
LESSON PLANS
Music Suggests An Animal Lesson Plan
Compare and Contrast Lesson Plan
Animals Composers Listening Selections
---
CHORAL SHEET MUSIC DOWNLOADS
Somali "Butterfly Song:" Voice & Piano Score
Somali "Butterfly Song:" English Lyrics
"Old McDonald" – Single Voice
"Old McDonald" – Two Voices
---
"MARCH OF THE CATS & DOGS" ORCHESTRA SHEET MUSIC DOWNLOADS
"March of the Cats & Dogs" – FULL SCORE
"March of the Cats & Dogs" – Violin Student
"March of the Cats & Dogs" – Violin Elementary
"March of the Cats & Dogs" – Violin 1
"March of the Cats & Dogs" – Violin 2
"March of the Cats & Dogs" – Bass
"March of the Cats & Dogs" – Cello
"March of the Cats & Dogs" – Cello Elementary
"March of the Cats & Dogs" – Viola
"March of the Cats & Dogs" – Viola Elementary
---