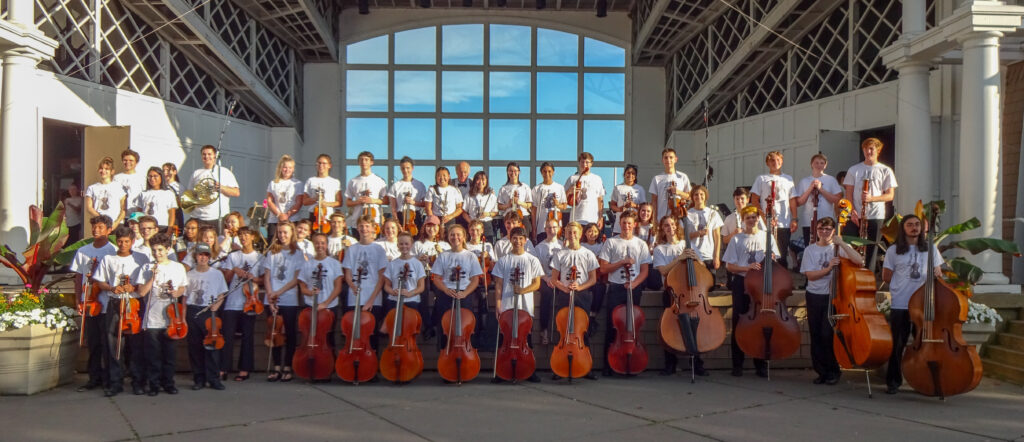 2021 Youth Outreach Week
In accordance with public health recommendations regarding COVID-19, the staff and Board of Directors of the Sinfonia have elected to CANCEL THE Youth Outreach Week FOR 2021.
We aim to be back in 2022 for a robust Youth Outreach Week…
Join the Twin Cities' top talented young musicians to experience a "week in the life" of a professional musician by participating in intensive orchestra rehearsals then joining the MN Sinfonia in performing a concert at the beautiful Lake Harriet Bandshell in Minneapolis. It's unique and valuable experience for up and coming young musicians!
---
How To Participate
Who's eligible?
Advanced music students up to age 19 with a teacher recommendation. Participants must commit to being at ALL rehearsals and the concert.
Where do we rehearse?
Minneapolis location to be determined.
How much does it cost?
The program is FREE!
How many get in?
Only a limited number of youth are accepted on a first come, first served basis, so early responses are encouraged.
---
Download music for practice
---
Schedule
Days 1-2, rehearsal, 7-10 p.m. (all students w/ conductor Jay Fishman and the MN Sinfonia principal string players)
Days 3-4, rehearsal, 7-10 p.m. (all students w/ the full MN Sinfonia)
Day 5, concert at 7:30 p.m. (sound check 7 p.m. at Lake Harriet Bandshell)
---
How to Apply  – submit the following:
Student's name, phone & email
Instrument (violinists list first or second)
Teacher's name, phone number, and letter of recommendation
Parent or guardian's name, phone & email
BY EMAIL to jay@mnsinfonia.org 
BY MAIL to MN Sinfonia, 901 N 3rd St Ste 112, Minneapolis, MN 55401
ONLINE — Follow this link to register
QUESTIONS? Please call 612-871-1701
---
Youth Outreach Week is made possible by generous support from
The Church of the Holy Name | Basilica of Saint Mary
THE FIREFLY SCIENTISTS' FOUNDATION
Individual donors and