YOUNG ARTIST COMPETITION
Held annually each spring
Please note that the 2021 Young Artist Competition has been canceled due to COVID-19. We plan to continue the competition in 2022. (date TBD)
The Sinfonia's Young Artist Competition (YAC) is held each spring and is an outlet for young talented string players to play in front of and receive quality feedback from Sinfonia judges. The Senior Division winner receives the Claire Givens Violins cash prize of $500 and a solo at the Sinfonia's Youth Outreach Week season-ending grand finale at the Lake Harriet Bandshell. The Junior Division winner is awarded a solo piece accompanied by the Sinfonia at its annual holiday concert.
The competition is designed to be friendly and challenging whereby participants receive instruction from judges, who are in fact, Sinfonia musicians and its conductor. The feedback always includes compliments on the many good aspects of the performances, as well as constructive suggestions of things to improve technique and musicianship. Over the years, many of the contestants have gone on to receive undergraduate and graduate music degrees, with several embarking on professional music careers. During the past twenty years of the competition, a few winners actually have come back to play in the Sinfonia!
The 2020 YAC was held on March 8th. The Senior Division winner is Elin Schlichting who gave a beautiful performance of Camille Saint-Saens' "Introduction and Rondo Capriccioso." Elin, now 19, began his violin studies at the age of three and is currently pursuing a degree in violin performance at St Olaf College. As a member of the first violin section, Elin has toured with the St. Olaf Orchestra, including performances at Carnegie Hall and in Norway in 2019.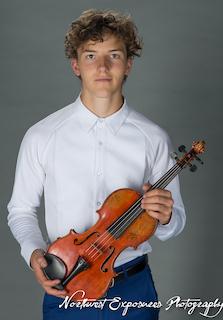 Thirteen-year-old Vladimir Tsiper is this year's Junior Division winner. He played the final movement of Felix Mendelssohn's violin concerto in e minor and with great fire! Vladimir is from Eagan and is a 7th grader at Breck School. He is also a member of Minnesota Youth Symphony Repertory Orchestra and has entered and won many other performing arts competitions.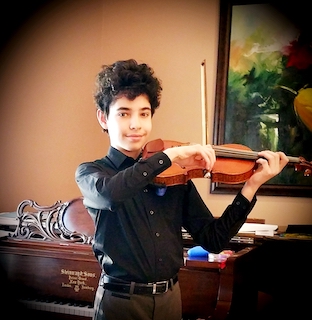 ---
2022 REGISTRATION DEADLINE: TBD
For both divisions a non-refundable fee of $25. Scholarships to reduce or eliminate the fee are available. Call us for details at 612 871-1701.
---
ENTRY INFORMATION
Residents of Minnesota, North Dakota, South Dakota, Iowa and Wisconsin ONLY.
Competition NOT open to the public.
Previous winners not allowed to win the same division a second time.
Senior Division will receive suggested repertoire.
Up to age 14, all repertoire is acceptable.
PRIZES
Junior Division winner: solo appearance with the Minnesota Sinfonia

---