Butterfly Garden

Premiere made possible through the Minnesota Sinfonia's New Works Program with support from the McKnight Foundation
 
Paul Schulz (1964-) bio
Butterfly Garden is all about colors and moods. Just as butterflies come in all hues of the rainbow, Butterfly Garden uses a variety of timbres and textures—in addition to thematic material—to depict a visit to the home of these delightful, delicate creatures. What will you visualize when you hear shimmering ponticello (bows are drawn almost on top of the bridge) tremolos in the strings, the metallic ping of crotales, the full orchestra playing a frenzy of thematic fragments, or a solo flute sailing above a soft string accompaniment? Perhaps you'll laugh at a pair of small butterflies that seem to bounce and bumble through the air, or find yourself breathless as you meet a gorgeous, majestic butterfly that then sweeps away on enormous wings, fading into the distance.
The idea for Butterfly Garden came from Five Fantasies for Bass Clarinet and Concert Band, a work I wrote more than 20 years ago when I was a member of the Minnesota Freedom Band, which wanted to feature me as a soloist. I wanted to solo on the bass clarinet, but knew of no literature available for such a configuration. So I wrote Five Fantasies. Each movement was about a so-called "fantastic" or imaginary being—sylph, dragon, sprite, banshee, ki-rin. The opening movement, "The Sylph," depicts a mythological spirit of the air and is the shortest of the five movements. For years, I have thought that it would lend itself nicely to an expansion into an orchestral setting. A visit to an actual butterfly garden in Costa Rica provided the inspiration for a new title, and my wonderful colleagues of the Minnesota Sinfonia provide the perfect medium. The result, Butterfly Garden, is very different from the original Five Fantasies. While Butterfly Garden draws much of its thematic material from "The Sylph," even quoting entire musical phrases at times, it lacks form except in the broadest sense—not at all true of "The Sylph"—and explores many more colors and moods.
Butterfly Garden may be mostly formless, but that is not to say that it is shapeless. As its title suggests, Butterfly Garden invites the listener to stroll through a garden full of colorful butterflies of various shapes and sizes. Some of the butterflies flit, some swoop, some glide – you'll find them all here. Every turn of the garden path brings new butterflies into view, and often you'll encounter friends you met earlier in your walk. Sometimes butterflies are swirling all around us; at other times, we're enjoying just one or two individual insects. Let the music help your imagination create your own experience in our beautiful Butterfly Garden! —Paul Schulz
Concerto No. 2 in d minor, opus 22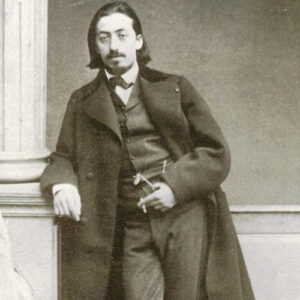 Henryk Wieniawski (1835-1880)
Henryk Wieniawski was a great violin virtuoso, who like so many of his predecessors and contemporaries—Mozart, Beethoven, Chopin, Sarasate, Paganini, and many, many others—composed music for his own performances to emphasize his technical prowess, ability to write beautiful melodies, and of course attract paying concert audiences in order to make a living. Aside from his two concertos, he composed several shorter but truly exciting and beautiful solo works for violin, including my favorite, Legends, as well as a variety of chamber music. Of the two concerti, the second is by far the most famous and popular, and what is heard on this set of performances.
The young Henri (French spelling of his name, which he preferred) Wieniawski was a child prodigy. He was taken to Paris from his native Poland at age eight, and graduated with the first prize in violin from the Paris Conservatory at the age of eleven. He was friends and worked with some of the greatest and most famous musicians of his day, and toured extensively with several of them.
In 1859, the famed pianist and conductor Anton Rubenstein convinced Henri to come to Moscow, where he was soon appointed personal violinist to the Tsar. At that time, he also joined the faculty for the Rubenstein conservatory, where he taught until 1872 when Wieniawski and Rubenstein undertook a very successful but exhausting tour of the United States.
Later, Henri went to the Brussels' Royal Conservatory to "sub" for his ailing friend and colleague, the great violinist Henri Vieuxtemps. In 1878, when Viextemps' health recovered, Wieniawski's health started to decline. While performing his second violin concerto in Berlin, he had a seizure and was unable to finish the concert. His good friend and master violinist, Joseph Joachim was in the audience, and after approaching the stage and determining that his friend was out of danger, he took the violin and played Johann Sebastian Bach's sublime Chaconne. Even after this health scare/warning, Wieniawski continued playing concerts, but his health continued to decline, and he died two year's later.
The second violin concerto is known for beautiful melodies – especially the second movement, which was described by master violinist Leopold Auer as a song to be sung in a way to make us forget the instrument. Of course the required virtuosic and technical skills requirements are found in the third movement, and are reminiscent of the music of the Roma (gypsies). —Jay Fishman
Adagio in E Major K. 261 and Rondo in C Major K. 373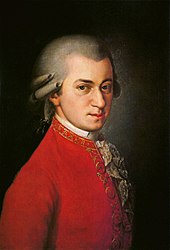 W. A. Mozart (1756-1791)   
Mozart of course is known for his large-scale works—the symphonies, operas and concertos. However, there are many smaller-scale, charming and very effective pieces, several of which remain in today's repertoire. The Adagio and Rondo heard on this program are two such works and are often paired together to make a nice and complimentary set. Aside from being composed for Antonio Brunette, who at the time was the principal violinist in the orchestra that was controlled by the Archbishop of Salzburg, they have no other official connections—they were not created to be a "matching pair."
The Archbishop, who was Mozart's employer, had become fond of the music from Italy, which was "lighter" in taste and scope than its counterparts further north. To cater to his taste, Brunette and other Italians musicians were brought in to provide the "proper" feel for the Archbishop's orchestra. Mozart was not impressed, and had ill thoughts for Brunette's music, and one would have to imagine, visa versa.
A case in point was that Brunette was not pleased with the second (slow) movement of Mozart's Fifth Violin Concerto, because he felt that it was too heavy. He asked Mozart to create another less cumbersome movement, resulting in the Adagio, which was composed in 1776.
The Rondo also has a story. Mozart was visiting in Vienna, when he heard that the Archbishop would be making an official stop there, and was planning to have a celebration honoring his father at his father's home. Brunette asked Mozart to write something for the occasion. The C Major Rondo was the result, which of course is a lighter and charming work. It was very successful, and also was a parting shot at the Archbishop and Brunette, as in the following month, Mozart left the Archbishop to make his career and fortune in Vienna. —Jay Fishman
Symphony No. 1, in D Major, Opus 25 Classical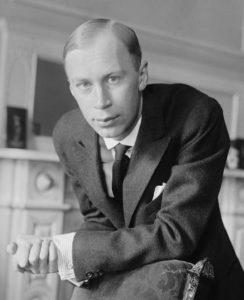 Sergei Prokofiev (1891-1953)
The year 1917, when this symphony was created, saw great strife in Russia. The Revolution had deposed the Tsar and installed the Bolsheviks to power. On the international front, Russia was losing its war against Germany and Austria. It was during these very difficult and stressful times that Sergie Prokofiev created what was to become one of his most endearing works – his first symphony.
Prokofiev had already composed two piano concertos, the second of which created an uproar with its expansive emotional and dramatic outbursts. The symphony was an immediate and remarkable change with its references to forms and dances of the 18th century, its light heartedness and satirical moments, and its very typical four classical movement format. But with all of these nods to the past, Prokofiev put a very special "modern" stamp on the music. It was his use of harmonic structure, and unusual pairing of key signatures that not only differentiated this work from its model, but also gave the music a refreshing sound that has lasted for 100 years.
Prokofiev generally composed at the piano, which of course was great for his piano works, but often created awkward and unsettling passages and phrasing issues for other instrumentalists. Perhaps, the best explanation and his thoughts about the way he conceived and composed the symphony can be gained from his descriptions taken from his autobiography:
I spent the summer of 1917 in the country near Petrograd all alone, reading Kant [a famous and difficult to understand philosopher] and composing. I deliberately did not take my piano. I had noticed that orchestral thematic material composed without the piano was often better in quality So this was how the project of writing a symphony in the style of Haydn came about…it seemed it would be easier to dive into the deep waters of writing without the piano if I worked in a familiar setting.

 It seemed to me that if Haydn had lived in our day he would have retained his own style while accepting something of the new at the same time. That's the kind of symphony I wanted to compose. When I saw that the idea was beginning to work, I called it 'Classical Symphony'… for several reasons: first, it was easy; secondly, out of naughtiness and a desire to 'tease the geese', secretly hoping that in the end I would have my way if the title 'Classical' stuck… I composed much of it during long walks, although the third movement, the Gavotte, had actually been written a good deal earlier. I had also written an earlier version of the finale, but crossed that out and wrote an entirely new one, endeavoring among other things to avoid all minor chords.
 As a footnote, he did not succeed in eliminating all of the minor cords. —Jay Fishman