Paul joined the MN Sinfonia as its clarinetist in 2011, after playing as a Sinfonia sub/extra for three years prior to that.  In addition, he has been a member of the Metropolitan Symphony Orchestra since 1991 (bass clarinet, co-principal clarinet, and now principal clarinet) and is an active freelancer.
He is also a composer, and has written and premiered several works for solo bass clarinet, as well as composing works for the Sinfonia's Winter Concert series and Music in Schools program.
"Playing with the Minnesota Sinfonia has been a wonderful experience.  There's nothing more enjoyable than making great music with friends for appreciative audiences. Being a composer, I particularly enjoy the Sinfonia's Minnesota New Works program; what fun to premier some fantastic works by local composers!"
He is an adjunct professor at the University of St. Thomas, where he teaches private bass and contrabass clarinet students.
Paul graduated summa cum laude with a music performance degree in clarinet and horn from the University of North Carolina at Greensboro, and received his Master of Music degree in horn performance from Arizona State University.
Outside of music, he works full-time as a software engineer/database administrator.  He lives in southeast Minneapolis with his husband Steve and his two Shih Tzu, Sibelius ("Beli," pronounced "Bailey") and Stravinsky ("Vinny").
About his clarinet
 I did not choose the clarinet; it chose me!  My first instrument was the piano, which I started learning at age three (my mother had been a church organist in high school, so she taught me some basic keyboard skills when I started showing interest).  My second instrument was the French horn, which I chose as my band instrument in the fifth grade and played through a Master's degree.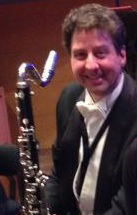 My sister, who is two years younger than I am, chose the clarinet as her band instrument.  After my sister's first year of playing the clarinet, our family moved from Ann Arbor to Raleigh, where kids start music a grade later.  My sister didn't want to repeat a year, so she gave me her clarinet, and I taught myself how to play it (picking up some unfortunate bad habits that took future teachers a bit of time to break). 
In the 11th grade I bought a bass clarinet at the Raleigh flea market, and I was hooked.  I owned that instrument for about four years before upgrading to a professional low C bass clarinet, an instrument I still have.  Bass clarinet is my favorite instrument to play because it's so easy and versatile.  Over the years I have acquired a variety of clarinets of various sizes, include a contra-alto, a contrabass, and a little e-flat clarinet that I call "Squeaky" (and which needs to grow up into a real clarinet!).