Slavonic Dance Opus 46, Number 8
Antonin Dvořák (1841-1904)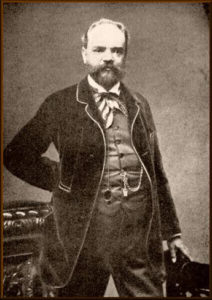 Antonin Dvořák composed his Slavonic Dances (opus 46) in 1878, for a commission by Nikolaus Simrock, the famous German publisher and friend of Johannes Brahms. Dvořák had already composed five symphonies, but at the time, his reputation did not extend beyond his native land (now the Czech Republic). Simrock had made a lot of money by publishing Brahms' Hungarian Dances, and he had hopes that Dvořák's Slavonic counterpart would be just as successful. The commission was for piano four hands (two players), but even as Dvořák was composing, he already started to think in orchestral terms, and soon created the full orchestrations.
The Slavonic Dances received enthusiastic reviews from the well-respected German critic, Louis Ehlert, which in turn helped to foster acceptance by the German and English public. This was important, as it allowed Dvořák to meet and then work with some of the most notable musicians of the day, including conductor Hans van Bulow, violinist Joseph Joachim and the Florentine Quartet. These musicians' performances and their friendship with Dvořák, in turn helped the composer establish a broad public standing, and enough security so that he could devote his energies solely to his compositional endeavors.
Several years ago, I re- arranged several dances from the opus 46 for the Sinfonia. A few years later, I added number 8, which is what is being heard on this concert. Jf
---
Symphony in G Major Opus 6 no. 3
Johann Christian Bach (1735-1786)
Johann Christian Bach (also known as Christian the London and or J.C. Bach) was the eighteenth child of Johann Sebastian's twenty children, and like many of his siblings became a composer of some reknown. Although he was born in Germany and raised as a Lutheran, at age 20 he moved to Italy where he studied music composition, converted Catholicism, and then wrote music for the church. 
He later moved to England and in 1762 began composing for the King's Theater in London, for which he produced several successful operas in the Italian style. During this time, he also composed several orchestral and chamber works, as well as music for keyboard and some cantatas. In 1764 he joined forces with the much heralded viola da gamba player Karl Friedrich Abel, and started a very popular concert series. Because he lived in London, he eventually became known as the "London" or "English Bach."
Christian Bach's music (and that of his contemporaries) was a rebellion against the music of his father Johann Sebastian Bach, Georg Philip Telemann, Georg Frederic Handel and the many other composers of that time who composed in a style that we now label as the "high Baroque" – approximately 1700-1750. That music tended to be very involved, contrapuntal (lots of contrasting music lines often piling one on top of the other) and complicated. The new music by J.C. Bach and his contemporaries was lighter, less involved and was actually called "rococo" or "gallant." This simpler and less complicated style of composing was considered more elegant than its predecessors. And in fact, in Germany, the music was call empfindsamer Stil – which translates as in a "sensitive style." Most of these sinfonias were three movement works, as were the early symphonies of Haydn and Mozart. The sinfonias by Mozart and Haydn later developed into four movement and longer compositions, and laid the foundation for what we now consider the "classical" symphonic style of the later 1700's early 1800's. Jf
---
Symphony No. 94, Surprise
Franz Joseph Haydn (1732-1809)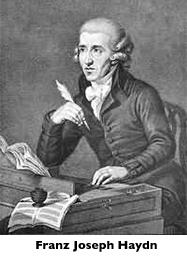 Franz Joseph Haydn, who was born in Lower Austria and died in Vienna, is commonly credited with being the father of the classical symphony. Because he had the luxury of consistent financial security, and the opportunity to work with quality musicians over a long period of time, he was able to develop slowly and methodically as a composer and craftsman. Haydn spent the years of 1761 to 1790 in the employ of Esterhazy family – first with Paul Anton, and after his death, his brother Prince Nicolaus. Nicolaus (who had the longer tenure) loved music, and was very supportive of Haydn and his efforts. Nicolaus employed excellent musicians and singers, which gave Haydn a marvelous laboratory to develop and sharpen his compositional skills. The Esterhazy estate, which was described by a French traveler as "having no place but Versailles to compare with for magnificence," became a center for excellent music making and productions.
At first Haydn's orchestra was small (his early symphonies generally used few winds and a small string compliment), but over time the size of the orchestra grew, as did the proficiency of its players. Haydn's composing mirrored these changes. The complexities and the lengths of his symphonies increased, and he made more technical demands on his muscians. Over this time frame, the typical four-movement classical symphony format became formalized, largely because of the development of his compositions.
Haydn's fame spread across Europe, and after the death of his patron Prince Nicolaus, he was very much in demand. He was brought to England by the impresario Johann Peter Salomon, who commissioned him to compose two sets of six symphonies. These twelve symphonies (numbers 92-104), which are referred to as the London Symphonies, or the Salomon Symphonies are considered to be the pinnacle of the classical symphonic form, and the best of Haydn's enormous symphonic output. 
Many of these symphonies have nicknames, somehow related to the musical content. Examples include specific associations, such as the Oxford, because Haydn was awarded an honorary doctorate at one of the town's universities; the Clock because of the (in)famous ticking sound of the rhythmic accompaniment in the second movement;. the Miracle, which had quite a story attached to it. Rumors circulated that during the premiere of this work, a chandelier crashed from the ceiling to the floor of the concert hall. Fortunately, before the crash, the audience had rushed to the stage to see the famous composer, and so no one was hurt by the falling fixture. The lack of injuries was called a miracle, which led to the nickname. Although this is a great story, reality tells a different tale. According to historical records, a chandelier did fall during a concert, and no one was injured. But it was during the premiere of the symphony number 102, not 96.
The symphony on today's concert has the nickname of the Surprise, because of the sudden and loud crashes during the second movement, which by the way showed that Haydn had a sense of humor, and wanted to make sure that no one would fall asleep during the performance. Jf