Dear Friends and Supporters,
Our greetings and we are thrilled to announce that yes, we will be performing this summer! After a year and a half of not playing, the thought of seeing you live in the audience, and our musicians rehearsing and playing together, also live, is all but overwhelming. We have planned terrific programs with music from some of the greats including Mozart, Dvorak, le Chevalier de Saint-Georges, and many others, and on the lighter side, music from the movies, waltzes, ragtime, and more. On the July 15th (at Como Park) and 16th (Lake Harriet) concerts, we will feature Russian American violin soloist Yevgeny Kutik, who the New York Times proclaimed has a "dark-hued tone and razor-sharp technique…[coupled with a]rich sweet tone," and the Strad in a review wrote that "Kutik presented an elegantly phrased, sensitive interpretation that balanced passion with nuance."
You will find the concert dates, venues, and times are listed below. Please make sure to check your mailbox as additional details will be shared in our latest newsletter, as well as our website for the latest updates, program notes, and information about upcoming events and programs.
We are also busy planning our upcoming fall/winter/spring seasons.  The music will be great and the soloists incredible! As plans become finalized, we will send out mailings, emails and of course post everything here on our website.
We want to take this opportunity to thank you for your continued financial support of the Sinfonia, our free concerts/bring the kids policies, and our work in the public schools. As we are sure you know, this could not happen without you!
We shall see you soon. Until then, stay safe and healthy, and we wish you our very best,
Jay Fishman                                                Tina Enberg
Artistic Director                    President, Board of Directors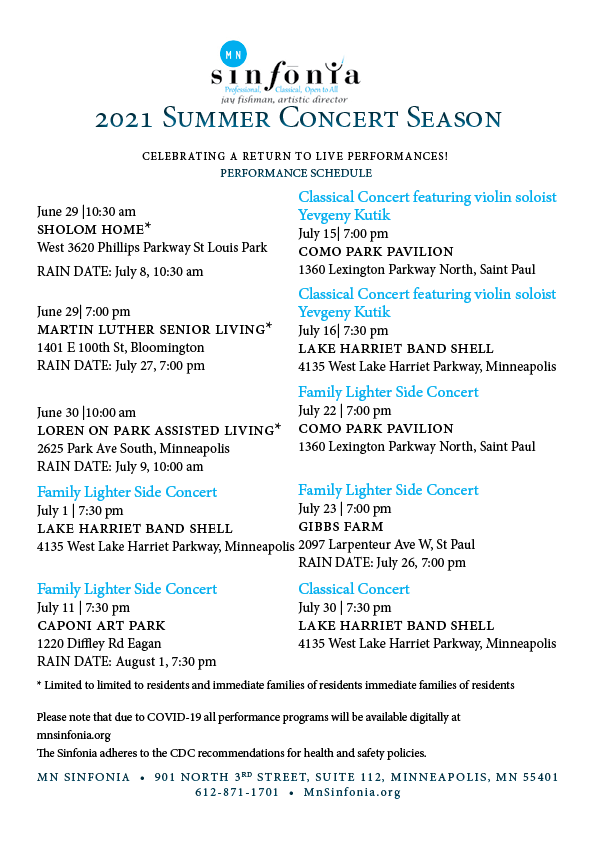 ---