Sinfonia's Jay Fishman Invited to Carnegie Hall!
Music educators from across the country gather at NYC Link Up conference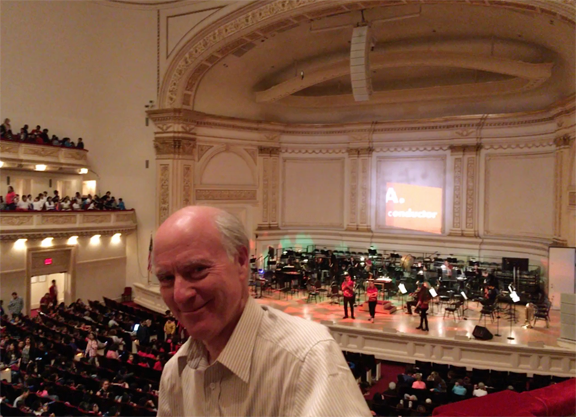 More than 27 years ago, Minnesota's own Jay Fishman came up with a program for teachers to engage students in learning core academics through linking math, science, history and literature to music. On May 24, at the invitation of Carnegie Hall's Link Up program, Jay traveled to New York City to meet with music educators from around the country and participate in discussions about how to use professional orchestras in school education.
Fishman is the Executive and Artistic Director of the Minnesota Sinfonia, a professional chamber music orchestra based in Minneapolis. Education is a key component of the nonprofit orchestra's mission. Over the past twenty-seven years, the Sinfonia's Music in the Schools has reached more than 150,000 Minneapolis and St. Paul inner-city school children. Each year, the program focuses on a different core academic subject, with the curricula all based on Minnesota State Educational Standards.
Hillarie O'Toole, Manager, Learning & Engagement Programs of Carnegie Hall, heard about the MN Sinfonia program and invited Fishman to participate in Carnegie Hall's Link Up. Fishman, who is the only Minnesota Artistic Director/Conductor to be invited, said he is honored to be a part of Carnegie Hall's Link Up Conference. "It was exciting to view first hand Carnegie's excellent Link Up program and exchange education ideas with other conductors and professionals," said Fishman. "Using orchestras to enhance music education with young children is an extraordinary concept that I hope will be replicated around the country."
Remarking on the importance of arts education in furthering academic achievement, Fishman said, "In a time where music education programs are consistently being cut in public schools, we as orchestra leaders have a unique opportunity to encourage school administrators to re-think their funding priorities, and recognize the importance and value that music education has for their students and the community as a whole."
"Study after study have shown how music education improves students' learning and understanding of their core academics," said Fishman. "We've seen it first hand in our program, such as the girl who was inspired to create a science fair project comparing sound waves in different instruments."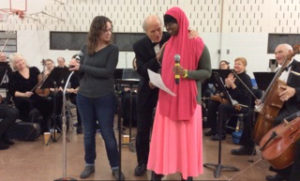 Last December, a student at St Paul's Bridge View Special Education School was thrilled to sing a solo with the orchestra during "Sinfonia Day" at her school. "This girl (in pink at right) was incredibly shy and had little to no verbal skills, yet sang beautifully and on pitch," said Fishman.
Bridge View Elementary School teacher Wendi Benson praised a past literature-based program: "Having the Peter and the Wolf musical folktale at the core of the program was pure genius. Students were enamored with read-alouds of the book and with the decades-old Disney movie. The program captured the student's attention for weeks, and they connected the literary story to the live orchestra concert on 'Sinfonia Day.' They may well remember the connections they made for their entire lives."
The Music in the Schools program is offered without charge to the schools or students. The organization relies on foundation and individual support to fund each and every activity. "I cannot overstate how grateful we are for program funding from such foundations as Target, McNeely, Ecolab and 3M. And, we were honored to receive funding from the National Endowment for the Arts for our Winter Concert Series program and community outreach.
The 2016-17 Sinfonia MIS program was science-based, "Water: Our Most Precious Resource." Fishman said the students get very creative in their approach to this program. "We were really pleased at all of the projects the students undertook, including at a couple of schools, building their own [models of] water filtration systems."
This school year, the Sinfonia worked with nearly 10,000 students taking MIS to 20 elementary and middle schools, including Minneapolis' Hale, Burroughs, Barton, Pillsbury, Jenny Lind, Kenny, Green Central Park, Lyndale, Waite Park, Anishinabe Academy, Olson, Franklin, and Sullivan; and St. Paul's Bridge View, Farnsworth Aerospace Lower and Upper, John S Johnson, Frost Lake, Academia Cesar Chavez, and Wellstone.