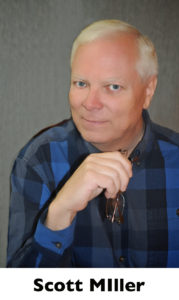 Scott Miller's music has been performed from Oregon to Greece and selections have been published by Editions Musica Ferrum in London, England.
Born in Minnesota in 1962, he has been composing since 1975.  As an undergraduate he studied composition with Paul Fetler at the University of Minnesota, and in 1992 earned the M.A. in composition and theory from the U. of M. under Dominick Argento.  In 1994, he earned the Master of Library Science degree at the University of North Texas.
Also an experienced cellist, he has played in orchestras in California, Texas, Minnesota, and Oregon.
"Dialogues" is a work in two movements taking the orchestra in a sort of anthropomorphic direction. Each movement describes easy to imagine types of real life dialogues.

The first movement takes us into a trumpet lesson, though it can be imagined as any instrument. The teacher (bassoon) makes his interjections as needed when the student tries his music and misses the mark. With each attempt the teacher becomes more ruffled and the student is puzzled about what he's supposed to do. The orchestra describes the discussion, and then the teacher asks the student if he's ready to try again. The tension mounts until the student decides to be brave and takes another try. Now the melody comes out perfectly and everyone celebrates the achievement.

The second movement has an entirely different mood. Here we have two characters meeting for a little chat – maybe over coffee. The first subject is introduced, but instead of answering, the second character goes in an entirely different direction and takes over the conversation. The first character tries to bring the conversation around, but it becomes rambling and unsure. When the second subject enters again the first character pretty much gives up and goes with the flow until the scene ends with an air of friendly resignation. —Scott Miller
Experience the world premiere of Dialogues with the Sinfonia
MARCH 8 | Friday, 7:00 PM
HARDING SENIOR HIGH SCHOOL AUDITORIUM
1540 6th St E, St Paul, MN 55106
Free parking in school lot
MARCH 9 | Saturday, 1:30 PM
BASILICA OF SAINT MARY
1600 Hennepin Ave, Minneapolis, MN 55403
Directions & parking