Scenes from Heaven's Little Faces
by John Penny (b. 1950)

Premiere of a new work made possible through the Minnesota Sinfonia's New Works Program with support from McKnight Foundation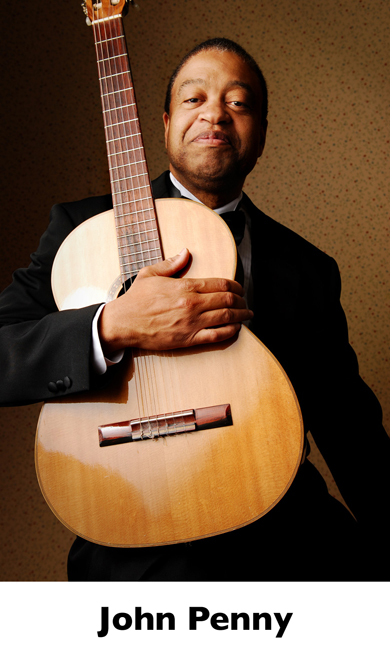 Minneapolis based guitarist and composer John Penny taught himself to play the guitar by listening to a variety of music genre leading to an improvisational style built on techniques from violin concertos, jazz saxophonists, flamenco guitarists, and others. His study of great classical composers from across the globe gave him a sense that the possibilities for composition in any style is limitless. 
Penny performs jazz and other genres of music in the Twin Cities and beyond with a host of great local and national musicians. His latest jazz CD, Urban Tumble, displays a merger of jazz, classical, and world folk music forms. He has also composed music for many TV commercials that include Best Buy, Frito-Lay, NBC News, Prudential Financial, and the Minnesota Twins, as well as music for films and theater. 
John earned a BA in music from the University of Iowa where he also taught Jazz history. He holds a graduate certificate in Management Information Systems from Metro State University in St Paul, MN reflecting a time when music and corporate computer systems shared his attention.  FULL BIO
About Scenes from Heaven's Little Faces
Composer John Penny writes about his new work:
I have long been affected deeply by reports on the number of children losing their lives each year to armed conflict, starvation, and other tragic circumstances that children should not find themselves in.
"Scenes from Heaven's Little Faces" is a story on this subject conveyed through music. It was composed for the Minnesota Sinfonia and involves the musicians giving voice to the characters in the story. The characters in solo and in sections make statements interactively throughout.
The opening cadences portray a war zone where innocent young lives are lost in the crossfire of battle. A full orchestral theme elevates triumphantly as precious young beings begin a journey to the afterlife.
The children's main theme is first introduced as they arrive. The piece continues by looking in on spirited conversations and statements from heaven's youthful new arrivals. In contrast, intermingled scenes follow the disposition of earthly loved ones at different stages of mourning.
A concluding scene resonates with the story's retrospective statements. A solo violin plays a final echo of the melody.
—John Penny
---
Piano Concerto No. 9 in E Flat Major, K 271
by Wolfgang Amadeus Mozart (1756-1791)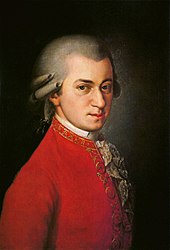 I declare to you before God, and as an honest man, that your son is the greatest composer I know, either personally or by name. —Franz Joseph Haydn to Leopold Mozart
Wolfgang Amadeus Mozart was born in Salzburg in 1756, and died in Vienna in 1791. He is best known as the boy genius who gave us hundreds of wonderful operas, symphonies, concertos, songs, etc.
Thanks to the play Amadeus, and the movie that followed, he is often remembered as a prankster, a fun loving child who never grew up, and a genius who was just able to spin out one masterpiece after another.
Life of course is never that simple, nor was his life the happy fairy tale one so often wants to assume.
Child Prodigy
The young Mozart started music lessons at age three with his father Leopold, who in his own right was a well-known and respected violinist and teacher. By age five, the young Wolfgang had progressed enough to begin public performing and composing.
Soon thereafter, Leopold took both Wolfgang and his sister (who also was a talented musician) to Vienna to show them off. The boy's reputation preceded them, and he was already called the "little magician." The child Wolfgang performed for the royal court and was a smash hit. After the performance, he jumped into to the lap of the empress, and kissed her. The court went wild, and according to a quote from the time, "all the ladies lost their hearts to the little fellow."
The children's early childhood was filled with many successful trips, playing concerts, and meeting important leaders and musicians. During these travels, the young Mozart continually studied and learned under the direction of his father.
Mozart's life and career had many ups and downs. At times he was very popular and at other times, he was all but neglected. Like his popularity, his finances also had many fluctuations – sometimes he was wealthy, and at other times he was poor. In spite of the uncertainties, he was able to create more than 600 works, many of which remain popular in today's repertoire. Included are forty-one numbered symphonies, and twenty-seven numbered piano concerti.
Piano Concerto No. 9
Mozart composed his 27 piano concertos throughout much of his life, with Number Nine being a relatively early work, composed while in Salzburg in January of 1777. The time of composition is significant, as with most of his early works, the instrumentation of the orchestra was relatively small. In this case, he used two oboes, two French horns and strings. He was a mere 21 years of age, and wrote the piece of Victoire Jenamy, whose father, Jean-Georges Noverre was a well-known pianist. Mozart did perform the concerto in October of 1777, but it is not known if Jenamy played the concerto at an earlier date.
The concerto had several interesting "advancements" in the form distinguishing it from his and other works of his predecesors. The opening movement had the piano solo interject (interrupt??) during the orchestra's orchestral introduction, an emphatic break with tradition, where the orchestra first states the themes, before the solo enters. The second movement was in c minor, the relative minor of the first movment's E Flat Major. This was highly unusual for Mozart, because only five of his twenty-seven piano concertos had middle movements in a minor key.
The third movment, a quick rondo – the primary themes keeps returning to offer cohesion and unity for the movement – merily plays along until Mozart inserts a lilting minuet in the middle – highly unusual for the music of the times. What is also interesting is that Mozart composed and included his own cadenzas in the manuscript. This too was unusal, because most performers simply created (made up) their cadenzas on the spot.
Critical Acclaim
This concerto is a real gem, and unfortunately often has been overshadowed by its succesors. It has always been held in high regard, by critics and performers alike:
Critic Charles Rosen wrote
… perhaps the first unequivocal masterpiece [of the] classical style.
Famed pianist Alfred Brendel called it
… one of the greatest wonders of the world.
and famed musicologist and music editor Alfred Einstein (no relation to Albert) named it Mozart's Eroica.
For me, this like all of the piano concertos, is a really is a fun and enjoyable work. It exudes both joy and exhuberance in the two out movements, and great depth in the middle.
—Jay Fishman
---
Symphony No. 4 in B Flat Major, opus 60
by Ludwig van Beethoven (1770- 1827)
A great deal has been written about Beethoven, his concertos and symphonies. He was of course one of the most innovative of all composers, and his use of the orchestra – the way he combined the instruments to create what became new sounds for his audiences, was a marvel. What is even more fascinating about these works is their general make-up. If one analyses them, s/he finds mostly scales and arpeggios, and often some very simple motives. Yet, from what one would think is non-descript materials, Beethoven fashioned some of the most exciting and dramatic music in the entire repertoire.
Beethoven's symphonies extended the boundaries of the "classical symphonic form" that were established by Haydn and Mozart. His mastery and creative use of harmonies, orchestration and his sense of drama and timing (sudden softs, louds, driving rhythms, and clever use of accents), allowed him to compose some of the most enduring and beloved masterpieces in the entire orchestral repertoire. In fact many of the great composers who followed him would not compose more than nine symphonies, in homage to the nine that he created.
The Fourth Symphony had the misfortune of coming between two giants – the third symphony, the Eroica –which originally was to be dedicated to Napoleon, and the Fifth symphony, which up until that time was undoubtedly the most dramatic symphony ever written. The Fourth Symphony is often portrayed as having a "sunny" disposition, and it certainly did not have the dramatic gravitas of the third and fifth, and so it has not been the "powerhouse" as the afore-mentioned.
Like all of Beethoven's works, it does have some unusual moments, including the very beginning, which Leonard Bernstein describes as a
…mysterious introduction which hovers around minor modes, tip-toeing its tenuous weight through ambiguous unrelated keys and so reluctant to settle down into its final B♭ major.
Accolades came from across the spectrum, and the following are but a few that were written by other famous composers:
French composer, Hector Berlioz suggested that the second movement had to have been composed by the archangel Michael, and that
…it seems to elude analysis. Its form is so pure and the expression of its melody so angelic and of such irresistible tenderness that the prodigious art by which this perfection is attained disappears completely. From the very first bars we are overtaken by an emotion which, towards the close, becomes so overpowering in its intensity that only amongst the giants of poetic art can we find anything to compare with this sublime page of the giant of music.
Composer Robert Schumann, wrote that this Symphony was
…a slender Greek maiden between two Norse giants,
Famous Beethoven scholar Alexander Thayer called it
…placid and serene — the most perfect in form of all the symphonies.
As a stand-alone composition, the Fourth Symphony is a great piece of music, and in my opinion, had it been composed by any other "classical" composer, it would be considered that composer's tour de force – his/her masterpiece. For Beethoven, it was just one of many. —Jay Fishman