Mr. Toad's Adventurous Ride
John Winkelman (b. 1956)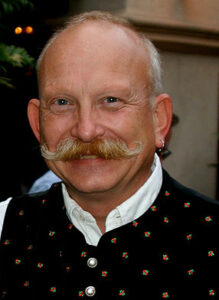 Mr. Toad's Adventurous Ride actually started out as the overture to a children's opera I was writing called Little Red Riding Hood. I had started the overture using the theme from the first number of "Mother Making Her Cake" for Little Red to carry off to her Grandmother. After doing a bit of research on the story and such I discovered that there were several Little Red Riding Hood versions already out there.
Not wanting to go where others had already ventured and seeing that my opera was still far from complete I could change it over to something else while still using the overture and possibly the first aria. Now, the overture was not complete at this time as it only included bits and pieces of the first aria and, being that no other songs were written, it sat and waited for some more motifs to add as the work progressed. Well, that never happened!
I took the partial overture opening (about a minute in length, and started to work on it in the style of "Mr. Toad" based on the original story from Wind In The Willows. Hopefully a somewhat comic piece, but still relaying the story of his crazy ride in The Wind and the Willows. I read the whole story to try to find if the ride had a specific name. It didn't. I carefully chose the title of my new piece to reflect what I see going on through this musical journey. As in the book it is an adventurous ride and somewhat naughty as Mr. Toad should not have been driving anyway! In my musical adaptation he does end at home safe and sound.
—JW
This work is part of the Minnesota Sinfonia's Call for Scores by Minnesota-based composers, and is supported by a grant from McKnight Foundation.
---
Romance in f minor, opus 11
Antonin Dvořák (1841-1904)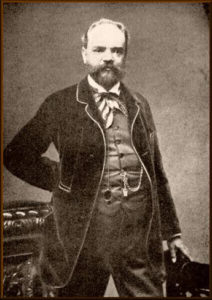 Antonin Dvořák came from humble and financially insecure origins. He grew up in a small Czech village, and at age eleven, he was apprenticed as a butcher for financial security. The young Antonin was a talented violinist, and at age 16 his father allowed him to go to Prague and study music. While there, he played violin in the local café orchestra and in the Provisional Theater Orchestra. While in the Theater Orchestra, he played under two of the most important composers of the day – Bedrich Smetana (the Czech nationalist composer) and Richard Wagner.
Dvořák was a prolific composer, and by age 34, he had already composed several symphonies, operas and much chamber music. Unfortunately, he received little public recognition for those efforts. His fortunes changed however, after he won the Austrian State Prize. Johannes Brahms was one of the judges, and was so impressed, that he introduced Dvořák to his own publisher, Friedrich Simrock. Simrock also was impressed with Dvořák, and immediately commissioned and published a set of Slavonic Dances (originally written for piano duet, but later orchestrated by the composer). From that point on, Dvořák's place in history was secure.
The Romance heard on these programs originally was composed as the slow movement of a string quartet in f minor. Four years in 1877, Dvořák re-worked the material and re-scored it for solo violin and orchestra.
—JF
---
Havanaise in E Major, opus 83
Introduction and Rondo capriccioso
Camille Saint-Saëns (1835-1921)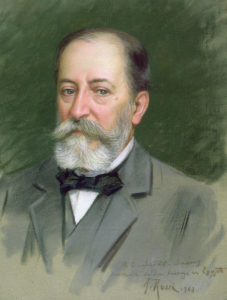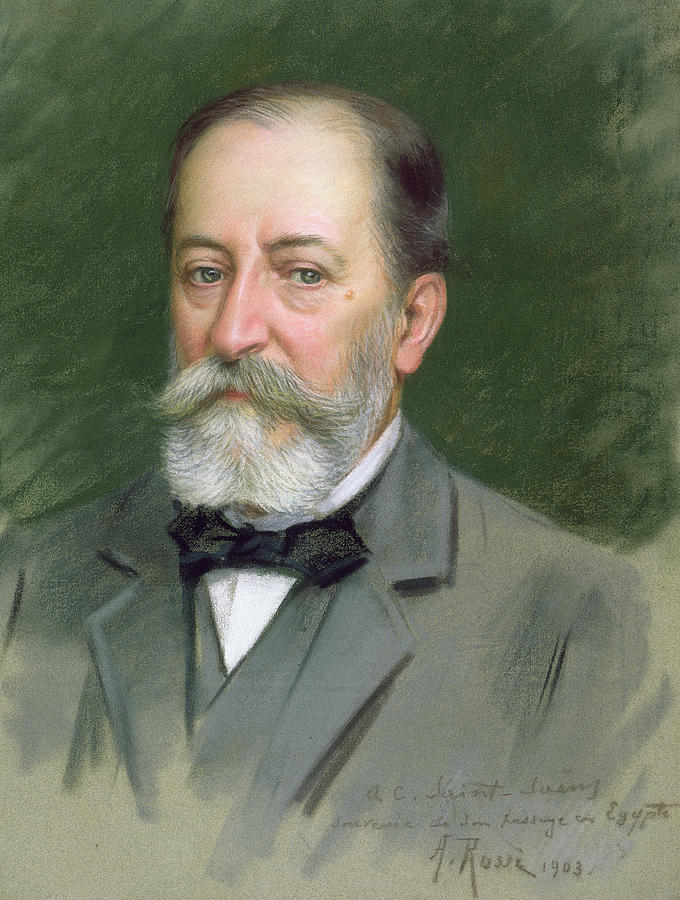 French composer and virtuoso pianist and organist Camille Saint-Saëns had one of the longest and most productive careers of any composer in the history of concert music. Beginning at the age of five, he was already creating pieces of note, which was to continue for the next eighty years. Asked about his enormous and continuous output, he noted that it was "as natural as a tree produces apples."
The havanaise (which is the same as the Spanish habanera) is an African based rhythm that developed as a dance form in Cuba, and means from or in the style of music from Havana. Now of course, it is regularly associated with Spanish and Latin music. Saint-Saëns underscores the rhythmic drive of this form by the regular use of a triplet (3 notes in the first beat) followed by a duple (2 notes in the second beat) both in the opening melody and the accompanying harmony. Interestingly, when Bizet used the same form in his opera Carmen, he started with duple first, followed by a triplet.
In Saint-Saëns' havanaise, once the rhythm and opening theme are established, he then added a very quick and flashy alternative, later joined by two beautifully romantic melodies.
Saint-Saëns composed the Introduction and Rondo capriccioso in 1863 at the request of a very young and talented violin virtuoso Pablo de Sarasate, and it has become one of the most popular works in the entire violin repertoire. In 1859, Sarasate was only eleven years old when Saint-Saëns composed his first violin concerto for the already famous violinist. So it came as no surprise that in 1863 (when Sarasate was the ripe old age of 15), the composer was asked to write something that Sarasate described as "fresh and young as spring itself." Saint-Saëns remembered the violinist as a young man who had "the faint shadow of a moustache scarcely visible on his upper lip, he was already a famous virtuoso. As if it were the easiest thing in the world, he had come quite simply to ask me to write a concerto for him."
There were other notable composers who were part of the who's who in the composers' world, and who were also charmed and composed for the violinist. Max Bruch, Eduoard Lalo, Joseph Joachim, Henri Wieniawski, and Antonin Dvořák were all part of this "club."
The Introduction and Rondo capriccioso, is a nine-minute work that begins with a rather stately and singing (almost operatic??) opening, followed by what can only be described as a dazzling array of pyro techniques and fireworks, all to show off the remarkable skills of the performer. The piece immediately became part of the standard repertoire, and after Georges Bizet (French composer who created the opera Carmen) transcribed the orchestral accompaniment for piano, the Introduction and Rondo capriccioso also made its way into recital halls, both for established violinists, and also for aspiring and very talented students.
—JF
---
Symphony No. 1 in c minor
Emilie Mayer (1812-1883)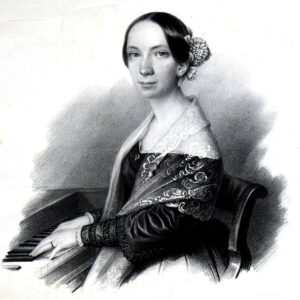 Born in Friedland, Mecklenburg-Vorpommem (Germany) where her father was a pharmacist, Emilie was the third of the family's five children. Emilie Mayer's life circumstances were very difficult, as her mother died when she was two years old. Then in 1840, her father shot and killed himself when she was 28.
In the following year, Emilie moved to Stettin (now Szczecin, Poland), and began studying music composition with Carl Loewe, who was a very important regional composer. To Emilie, he wrote:
You actually know nothing and everything at the same time! I shall be the gardener who helps the talent that is still a bud resting within your chest to unfold and become the most beautiful flower!
Later, when Emilie asked Loewe if she could share what she was learning from her composition lessons with other female pupils, his reaction was:
Such a God-given talent as hers had not been bestowed upon any other person he knew.
In 1847 after the premiere of her first two symphonies by the Stettin Instrumental Society, Emily moved to Berlin where she continued her compositional studies. Soon, she began publishing her works and performing for private concerts. In April of 1850, the Royal Theatre presented an entire concert of her music, which earned critical acclaim. Her musical reputation and career were becoming established, and she continued composing works for public performance.
In 1869, after the death of her teacher, the Carl Loewe Society was formed, and Mayer dedicated two of her cello sonatas to members of the society and their families.
Her compositional output included eight symphonies fifteen concert overtures, a piano concerto, songs and chamber music. There are a few chamber music pieces, orchestral scores to a couple of symphonies, and some recordings of her work that can be purchased, but by and large, she and her music are largely unknown to the general public. In fact, I found out about her simply by accident. I was looking for music on the internet, and a pop-up arrived suggesting that I might like her music…. I did, and the result is what is heard on this set of performances.
The symphony is composed in the early romantic style – I find some influences perhaps by Mendelssohn and others of that generation. For the record, I am not aware of the availability of any orchestra parts for the first symphony, and in fact I had to construct and edit a working/performing edition for this set of concerts.
—JF