Procession of the Nobles from Mlada
Nikolai Rimsky-Korsakov (1844-1908)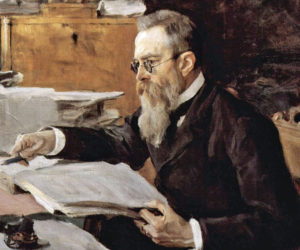 Nikolai Rimsky-Korsakov, along with four other prominent Russian composers of his day (Balakirev, Borodin, Mussorgsky and Cui), created a group that became known as "the mighty five," with the aim to build on and further develop the Russian nationalist musical style. Rimsky composed fifteen operas, three symphonies and several orchestral show pieces, the most popular of which include Scheherzade, Russian Easter Festival Overture and Capriciol Espagnol.  
Not only was Rimsky-Korsakov known for his composing, but he also was a very important teacher – he became a professor at the St. Petersburg Conservatory in 1871. He recognized the importance of students' learning the art of orchestration – how instrumental sounds can be combined to create different and interesting sonorities in orchestral settings. With this in mind, he wrote a treatise on orchestration, which to this day is a very important resource for composition students.
Rimsky is known as one of the great orchestrators of his time. His own music contains great orchestral colors, which have made his works some of the most popular in today's romantic repertoire. He applied those skills not only to his own compositions, but also to those of his contemporaries, including Borodin and Mussorgsky. Perhaps his most famous and popular work done on behalf of other composers is his orchestration of Modest Mussorgsky's Pictures at an Exhibition.
The Procession of the Nobles heard on this set of programs is taken from the Opera Mlada, and as one would expect, describes the entrance of nobilitiy. In the opera, this work was composed for chorus and orchestra, and in our version, we use just an orchestral version. For those of you who play or played in bands, you may know this work as a band piece – it is one of the most popular transcriptions of "classical" music for band.
—Jay Fishman
---
Nimrod from Variations on an Original Theme (Enigma Variations)
Edward Elgar (1857-1934)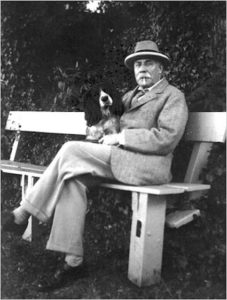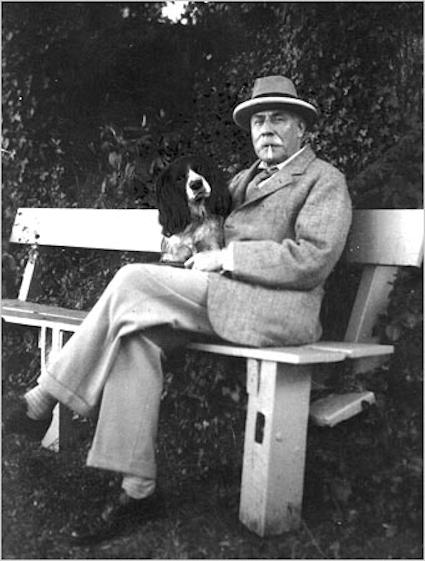 Edward Elgar's Variations on an Original Theme is considered to be one of the 20th century's true orchestral masterpieces, and without question, the composer's crowning achievement. The subtitle Enigma Variations came about because Elgar wrote "that through and over the whole set a larger theme 'goes' but is not played." There has been much speculation as to what that theme is (some have guessed God Save the Queen, while others suggested Auld lang syne) but the composer never divulged the original source.
Each variation is a musical tribute and dedicated to individual friends.  Among those variations, Nimrod was the composer's favorite, and the emotional centerpiece for the entire work. It was dedicated to A.J. Jaeger, Elgar's publisher, and recalls conversations about Beethoven and how the master wrote his slow movements. This work brought instantaneous success and renown to the composer, and generally has been considered to be the most important piece of British music to be written since the time of 17th century English composer, Henry Purcell.
—Jay Fishman
---
 Mandolin Concerto in D Major, RV 93
Antonio Vivaldi (1678-1741)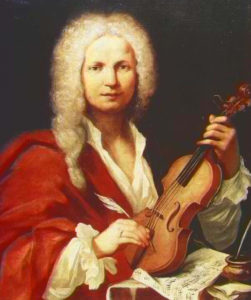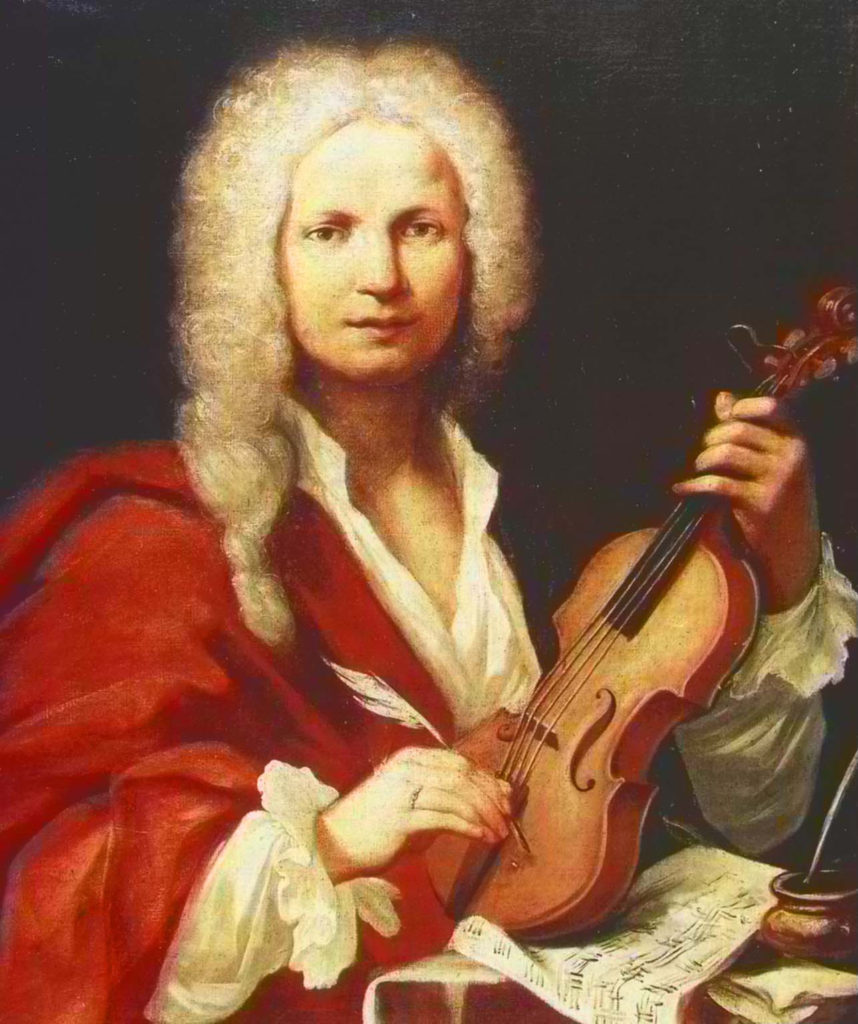 Antonio Vivaldi composed in what is now termed the high baroque period of music and architecture, roughly spanning the years of 1700-1750. He was a master composer and teacher, and influenced many of his contemporaries, including Johann Sebastian Bach. In fact Bach "borrowed" some of Vivaldi's works (there were no copyright laws in those days), and simply changed the orchestration, and called them his own.
In 1703 Vivaldi became a priest, and in that same year he took over the musical duties for the Ospedale della Pietà. The Ospedale della Pietà was one of several Venetian orphanages that were created to deal with unwanted pregnancies. Babies were left (anonymously) at these institutions where they would be cared for – the boys were to learn trades, and the girls who demonstrated musical talent, were taught to become musicians. Vivaldi's "conservatory for girls" became one of the most celebrated musical institutions in all of Italy. Its weekly concerts were very popular, and became a major tourist attraction. People wanted to hear the "all girl orchestra," which one guidebook described "not a single important person visiting Venice left before honoring them with their presence." Interestingly, the girls played behind a screen – audiences could not watch them, which must have added to the mystique of the concerts. One of the important side benefits of the concerts was that they generated ticket income, which then helped to pay for the school and the children's education.
Among the over 400 (some say closer to 500+) concertos composed by Antonio Vivaldi, most were written for the violin, or string ensembles (duos trios, etc.), and were played by his students. Of those concertos, The Four Seasons are undoubtedly among his most popular and most performed works. However there were concertos for other instruments as well, including the concerto mandolin, which is heard on this set of performances.
—Jay Fishman
---
Czardas
Vittorio Monti (1868-1922)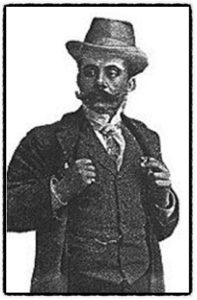 Although Vittorio Monti was Italian (born in Naples), and although he composed several operettas and other light music, his fame now rests primarily on the Hungarian Czardas played on this program. This work was originally written for either violin or mandolin with a piano accompaniment, but of course it has since been arranged for many different instrumental combinations. It was a concert favorite for many years, and by some of the greatest violinists, including Jasha Heifitz.
Aside from the more typical concert/recital uses, this work has been used in all kinds of unconventional settings such as movies (the dueling violins in Unfaithfully Yours, Danny Kay's The Secret Life of Walter Mitty, the Bollywood movie, Awaara), part of an introduction to Lady Gaga's Alejandro, and musical background for Mao Asada's figure skating routine. Today the Czardas is generally performed as a concert/show piece for violin and piano, but when possible, for violin and orchestra. It is based on a Hungarian folk melody that was danced in the village taverns – which in Hungarian were called the czarda(s).
—Jay Fishman
---
The Red Barn Waltz 
Richard Kriehn (b. 1966)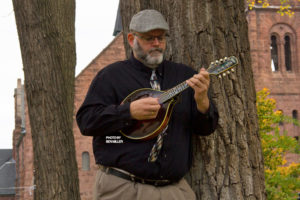 The Red Barn Waltz is dedicated to "The Red Barn" located in Colton WA. Paul Ely Smith and I needed one more tune to finish our set at the Red Barn and I made up this little tune. I went home after the gig and jotted down the melody (as close as I could remember), gave it a new chord progression and voila!
—Richard Kriehn
Minnesota-based multi-instrumentalist Richard Kriehn played with the "Guys All-Star Shoe Band" and the "House Band" on A Prairie Home Companion from June of 2010 until the host, Garrison Keillor retired in July of 2016. Richard has performed in symphony orchestras, bluegrass bands, baroque ensembles, pit orchestras, cover bands, country bands…but his new project, "New Shoes" takes the cake!  He, and some fellow "prairie homies" put together a great quartet!  They play everything: Bach, Bluegrass, Beatles and Beyond!
Way before Prairie Home, Richard lived in Nashville.  While in Nashville, he toured with Travis Tritt, Aaron Tippin and Michael Peterson, all the while, playing in the Nashville Mandolin Ensemble and the bluegrass group 1946.  He appeared numerous times on the Grand Ole' Opry and made appearances on The Rosie O'Donnell Show, Prime Time Country as well an episode of Walker, Texas Ranger. Before he and his family moved to the Twin Cities, they lived in Eastern Washington where he was a faculty member in the School of Music, Washington State University.
---
 Hoe Down and Variations on a Shaker Melody
Aaron Copland (1900 – 1990)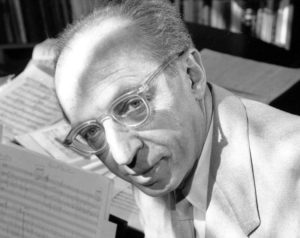 Early in his career, Aaron Copland wrote some very difficult music – not only difficult to play, but also to listen to. It was brusque, harsh very rhythmic and dissonant. Paraphrasing an early newspaper review, the author complained that if Copland were writing music like this at this early stage of his career, then it would not be long before he would be ready to commit murder. Fortunately for the music-loving public, Copland changed his ways, and decided to write music that would be more appealing to the general audiences. It was during this time that he wrote a Ballet for Martha (later to be called Appalachian Spring), Billy the Kid, Rodeo, A Lincoln Portrait, and most of the other works for which he is now so famous.
Reacting to this change of musical styles, and the public's perceptions, Copland wrote to the noted composer and critic, Arthur Burger;
You overdo the dichotomy between my "severe" and "simple" styles. I don't believe that what I was trying for in the simple works was only partly a larger audience; they also gave me a chance to try for a home-spun idiom…. I like to think…. I have touched off for myself and others a kind of musical naturalness that was badly needed.
In Appalachian Spring (from which the Variations on a Shaker Melody were taken), Copland used a simple melody (the Shaker song, Simple Gifts) as the basis for nearly one third of the ballet. The rest of the musical material was original, but it still followed the principle of being readily accessible to the general public. The Hoedown from the Ballet Rodeo, was also composed in his "simple" style, and to this day, remains as one of Copland's most recognizeable works. In fact, it was made even more popular by its use in the advertising campaign to stress the importance of beef in the diet, "Beef, it's what for dinner." The Simple Gifts section has been published (for large orchestra) as a separate entity, and with the permission of Copland's publisher, Boosey and Hawkes, I have arranged that version for the smaller sized Sinfonia.
—Jay Fishman
---
Symphony No. 82, The Bear 
Franz Joseph Haydn (1732-1809)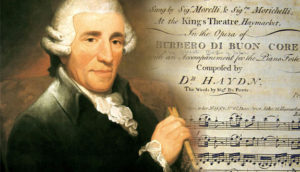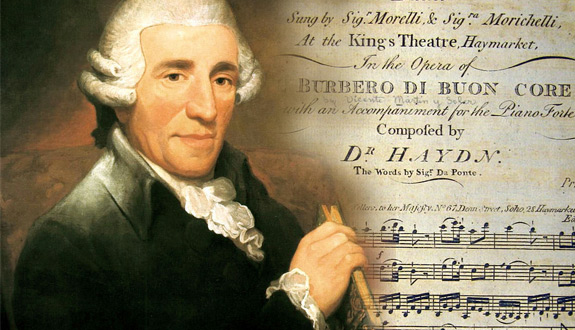 I compose music so that the weary and worn, or the man burdened with affairs, may enjoy a few moments of solace and refreshment. I know that God has bestowed a talent upon me, and I thank Him for it.  I think I have done my duty and been of use in my generation by my works.  Let others do the same.
Those are the words of Franz Joseph Haydn who was one of the greatest composers of the 18th century, and is now generally considered to be the father of the classical symphony. Because he had the luxury of constant and consistent financial security, and the opportunity to work with quality musicians over a long period of time, he was able to develop slowly and methodically as a composer and craftsman.
Haydn spent the years of 1761 to 1790 in the employ of the Esterhazy family – first with Paul Anton, and after his death, his brother Prince Nicholas. Nicholas (who had the longer tenure) loved music, and was very supportive of Haydn and his efforts.  Nicholas employed excellent musicians and singers, which gave Haydn a marvelous laboratory to develop and sharpen his compositional skills. The Esterhazy estate, which was described by a French traveler as "having no place but Versailles to compare with for magnificence," became a center for excellent music making and productions.
Haydn was the master symphony creator. In fact, he is often credited with being the father of the classical symphony. He was very fortunate, in that he had a long and uninterrupted career which spanned over forty years, writing for and under the patronage of Prince Paul Anton Esterhazy. This was a marvelous association, as the Prince had an excellent orchestra and chorus, and Haydn had the security to be able compose without worry about financial hardship. Because of this situation, he was able to develop his style slowly and with care. His symphonic writing had a constant progression, and one can see and hear the development. In general, the earlier works had smaller a instrumentation (often two oboes, two French horns and strings), later his symphonies would include flute(s), bassoons, trumpets and timpani, and the last works often included double wind compliments, and were longer.
Symphony Number 82 was of six symphonies composed for the Paris audiences. The "Paris Symphonies" were conducted by Joseph Bologne Chevalier de Saint-Georges, who was the conductor of the Concert de la Losge Olympique. By its contemporary standards, this was a very large orchestra that included forty violins and ten basses, and was composed of professional musicians along with "skilled" amateurs. By comparison, Haydn's Esterhazy's orchestra had a total of only twenty-five musicians. The orchestra's sponsor, Count D'Ogny, who was the Grandmaster of the Masonic Loge Olympique, played cello in the orchestra, and was responsible for the commissioning of the symphonies.
Joseph Bologne, Chevalier de Saint-George (1745-1799) who was a virtuoso violinist, composer and champion fencer was born in Guadeloupe the son of a wealthy planter and Nanon, his African slave. He is now best known as the first classical composer of African descent.
Symphony Number 82 has the nick-name of The Bear, most likely because of the long and low long notes (pedal notes), which some attribute to the growling of a bear.
—Jay Fishman