Premiere! Made possible through the Minnesota Sinfonia's New Works Program with support from McKnight Foundation
Looking at the Stars
Ethan Matthew Hyvari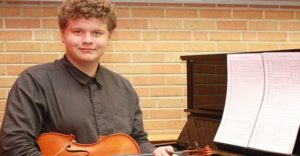 Ethan Matthew Hyvari, a 16-year-old Worthington, Minnesota native, started playing the violin and piano at age 10, and trumpet at 11. Ethan now plays several more instruments including trombone, tuba, saxophone, and flute; most of which were self-taught. His current favorite instrument is his 17" viola.
As much as Ethan loves to play music, his real passion is writing music. As a child Ethan would draw staffs on his church program and emulate what was written in the hymnals. At the end of each service his pastor would play whatever was written for him on the piano and give feedback. People around him saw his ability and his potential and started providing staff paper copies, manuscript notebooks and feedback. Ethan moved small parts written for individual instruments to larger pieces that included multiple instruments.
He says when he was 13, he started to take it more seriously and really started to experiment. The summer before his freshman year, Ethan wrote a piece for a girl he had a crush on at band camp. It kept evolving and growing during the fall of that year and eventually became Liebst Du Mich? Symphony No. I in D Major. Ethan shared some of his work with the South Dakota Symphony Youth Orchestra (SDSYO) music director Jeffrey Paul who helped Ethan with the piece, then chose to have part of it played at the SDSYO final concert of the season.
Ethan currently writes music for several hours every day. Although now using software, but still loves the feel of writing on paper. Ethan has many smaller works and is finishing a second symphony based on a trip to Colorado. Being self-taught let Ethan be very experimental. He realized he needed some formal classes, so took Advanced Placement Music Theory as a sophomore, a class usually reserved for upper grades. Ethan will also be heading to Spearfish, South Dakota this summer for a 2-week Composition Academy. He will be challenged to write a completed work for a small ensemble that will be played and recorded at the final concert. Ethan's ultimate education goal is to attend Concordia College in Moorhead, Minnesota for music composition.
—EMH
---
La Campanella from Violin Concert No. 2
Nicolo Paganini (1782-1840)
Italian master violinist, Nicolo Paganini was considered to be the greatest violinist of his day, and his reputation is such, that many consider him to be the best of all time. He started violin lessons before age six with his father, and later received training from the best violinists in Genoa. By the time he was 13 and went to Parma for further study, the teachers claimed that they could not teach him anything that he did not already know. So he started an intense self-education program, often practicing up to 15 hours a day!  According to research explained in Philip Sandblom's book, Creativity and Disease, Paganini had Ehlers-Dalos syndrome, which manifested itself in great flexibility in his joints. This allowed him to double his reach on the violin as compared to normal and mere mortal violinists, and he was therefore able to develop a technical prowess so amazing that it was rumored he must have made a pact with the devil.
Like so many contemporary and past virtuoso performers, he composed solo works for his own performances. History is full of great instrumentalists and composers who did the same – Mozart and Beethoven to name but a few.  But none had the technical where-with-all as Paganini, and in fact much of the music that he wrote was so difficult that it was unplayable by any of his contemporaries. His performances of these works were so stunning that they brought him great fame and fortune.
After listening to some of his creations, one might guess that he played with a certain abandoness (how could he not?), and that this same attitude might carry over to his personal life  – which it did! He was a reckless gambler, and on one occasion, had to pawn his violin to cover gambling debts. He then had to borrow a violin from a French merchant so that he could make one of his performances. That violin was a Guenerous – one of the greatest violins ever made, and the concert was such a success, that the Frenchman gave the violin to the performer. Paganini played this instrument for the rest of his life, and upon his death, bequeathed it to the citizens of Genoa, where it remains to this day.
The first violin concerto is among the most popular of his six, and is often heard in today's concert halls. La Campanella (the bell), which is also very popular, is the last movement of the second concerto, and is often taken out of context for concert performances. It derives its name from the bell that accompanies much of the movment. Like most of Paganini's output, it is filled with all of the pyro-techniques – left hand pizzicato, scales in thirds and of course fast and dazzling passagework. But it also has charm, beautiful singing melodies (influenced by the Italian opera), and a light-hearted sense that makes it a regular audience pleaser!
—JF
---
 Symphony No. 8 in F Major, Opus 93
Ludwig Van Beethoven (1732-1827)
Ludwig Van Beethoven is probably best remembered as the genius who went deaf at an early age, and still created some of the most famous and popular symphonic works of all time. Nearly everyone knows the opening of his fifth symphony (arguably the most famous four notes in history), and many of his works have been performed at important political and historical events all over the world (including the fall of the Berlin Wall and at President John Kennedy's funeral).
Beethoven often worked on several works at once. Such was the case of the seventh and eighth symphonies. Much has been made of the differences between the odd and even numbered symphonies. In the third symphony (the Eroica), and the fifth, seventh and ninth, one can see a pattern of towering and romantic works that evoke strong emotions and drama. On the other hand, the even number symphonies, two, four, six and eight tend to be "lighter" in nature, and with the exception of the sixth, structured more in a "classical vain." Some commentators suggest that after composing the emotional draining odd numbered symphonies, Beethoven needed a respite, which led to the "lighter" works. The problem of course is that he often worked on odd and even numbered symphonies simultaneously, including both the seventh and eighth symphonies.
When Beethoven was composing the eighth symphony, there were several "outside" factors that may have influenced the character of this work – the famous "Immortal Beloved" letter that was written but likely never sent to an unidentified love interest, meeting the famous literary giant Goethe, and spending a pleasant summer in the Bohemian spas – Vienna was a sanitary nightmare during the summer.
Of course, for today's audiences, the eighth symphony is considered a gem, great fun to listen to, and certainly not a light-weight symphony. However, when it was premiered on February 27, 1814 in Vienna paired with  his seventh symphony, the audience's reaction was not overrwhelming. In comparison to the cheers and demands for a repeat of the allegretto movement of the seventh symphony, the eighth symphony's reception was tepid. This reaction was explained by a reviewer in the Leipzig Allgemeine Musikalische Zeitung:
The applause that it received was not accompanied by the enthusiasm which  distinguishes a work that gives universal delight. …The reviewer is of the opinion that the reason does not lie by any means in weaker or less artistic workmanship (for here as in all of Beethoven's work of this kind there breathes that peculiar spirit by which his originality always asserts itself); but partly in the faulty judgment which permitted this symphony to follow the [Seventh in] A major. … If this symphony should be performed alone hereafter, we have no doubt of its success.
According to Sir George Groves, in response to the lukewarm response, Beethoven simply remarked "That's because it's so much better than the other."
A very interesting side note about the symphony – it has no slow movement. In fact, instead of the "typical slow movement," the second movement has a very steady rhythmic pulse that mimics a "chronometer" – the predecessor of our modern day metronome. Interestingly, the chronometer was invented by Beethoven's friend, Johann Nepomuk Maalzel, who also created several hearing aides for his use when he was losing his hearing.
—JF