Concerto in c minor
by Johann Christian Bach (Henri Casadesus)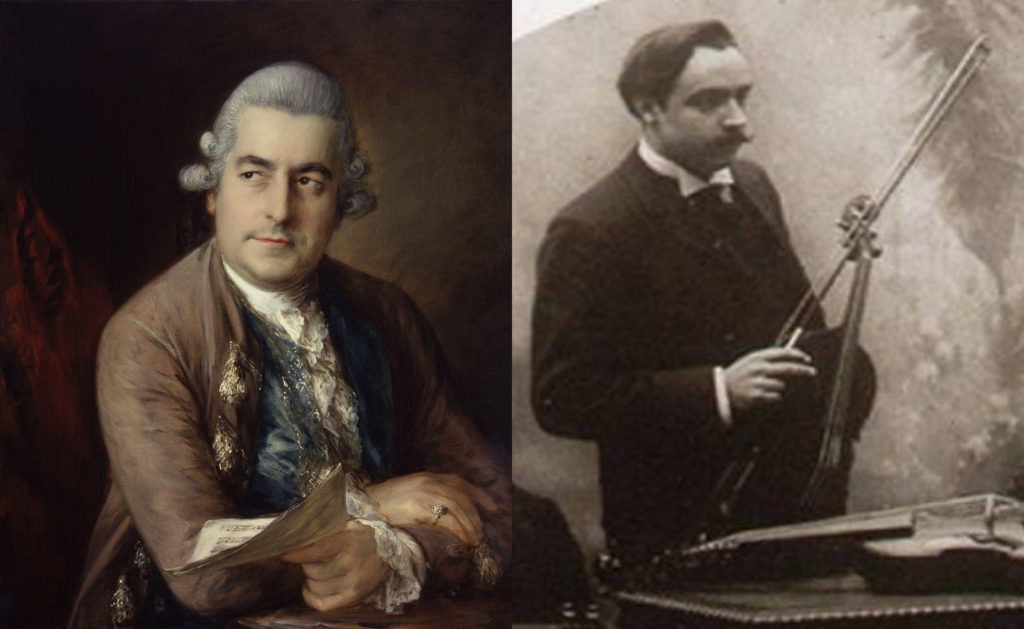 The viola concerto on this set of concerts is played on cello, and is wrongly attributed as being written by Johann Christian Bach (the youngest offspring of Johann Sebastian Bach). The concerto's real composer was French violist and composer Henri Casadesus, who was born in Paris and lived from 1879 to 1947. 
Those of you who are violists know that there is scant solo repertoire from the baroque, classical and early romantic periods for viola; any of you who are cellists, know there is only a little more for your instrument.  Most of the string concertos written before the 20thcentury were written for violin. 
So Casadesus took it upon himself to expand the repertoire and create more solo works for the lower strings. In this case, to ensure it would be played, Casadesus composed this concerto "somewhat" in the early classical style similar to Mozart's early works, and claimed that it was created by a Bach. And sure enough, this piece has made it into both viola and cello repertoire, and is played on the concert stage.
Although this seems like a sleight of hand, in fact the practice of writing music and assigning it to another composer, or taking works by other composers and "changing" them and then claiming them as your own, was quite commonplace.
Several examples exist throughout much of the seventeenth through nineteenth centuries, including Frederick Witt's symphony that was wrongly attributed to Beethoven, J.S. Bach re-orchestrating Vivaldi violin concertos for keyboard, and many composers taking themes written by others and then creating works based on those themes.
And there were times that composers published a work with one publisher, and later sold again to another publisher. We can speculate that composers using such tactics were motivated by fame and fortune.
Nowadays we have copyright laws and governing rules for composers and organization that safeguard musical works as intellectual property, such as ASCAP (American Association of Composers, Authors and Publishers), and BMI (Broadcast Music Inc).
—Jay Fishman
---
Concerto in G Major, RV 413
by Antonio Vivaldi (1678-1741)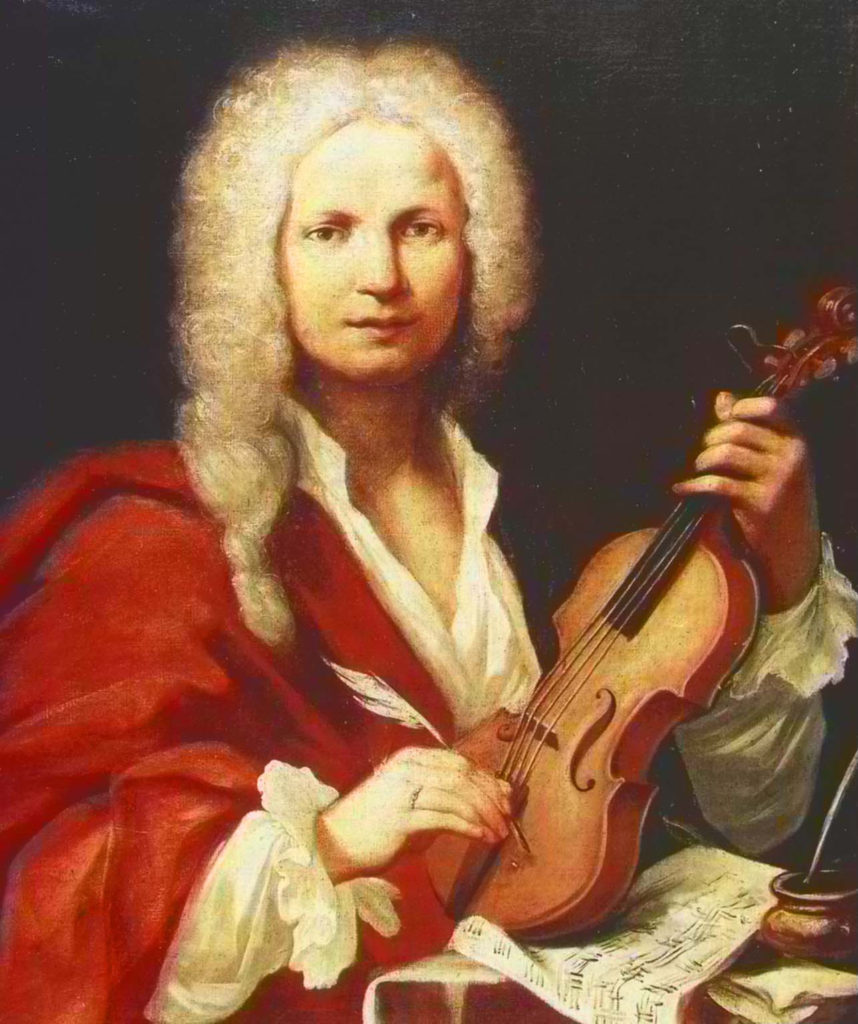 Antonio Vivaldi composed in what is now termed the high baroque period of music and architecture, roughly spanning the years of 1700-1750. A master composer and teacher, he influenced many of his contemporaries, including Johann Sebastian Bach. In fact, Bach "borrowed" some of Vivaldi's works (there were no copyright laws in those days), simply changed the orchestration, and called them his own.
In 1703, Vivaldi became a priest. In that same year he took over the musical duties for the Ospedale della Pietà, one of several Venetian orphanages that were created to deal with unwanted pregnancies. Babies were left anonymously at these institutions to be cared for: the boys were taught trades, and the girls who demonstrated musical talent were taught to become musicians. 
Vivaldi's "conservatory for girls" became one of the most celebrated musical institutions in all of Italy. Its weekly concerts were very popular and became a major tourist attraction as people wanted to hear the "all girl orchestra." One guidebook stated, "not a single important person visiting Venice left before honoring them with their presence."
Interestingly, the girls played behind a screen, unseen by the audience, which must have added to the mystique of the concerts. One of the important side benefits of the concerts was that they generated ticket income, which then helped to pay for the school and the children's education.
Among the over 400 (some say closer to 500+) concerti composed by Vivaldi, most were written for the violin or string ensembles (duos, trios, etc.), and were played by his students. Of those, The Four Seasons are undoubtedly among his most popular and most performed works. There were concerti for other instruments as well, including a few for cello, one of which is heard on this set of performances. 
One often hears the adage that "if you have heard one Vivaldi concerto, you've heard them all." This of course is a gross overstatement, because there is a great deal of variety and certainly many differences between the works. With such a large output, of course there are many stylistic and harmonic similarities.
Musical practices were different in Vivaldi's, Handel's, Telemann's, and J.S. Bach's day. Composers were all expected to create new works within very short time frames, and once the new works were performed, they were most often simply put on the shelf and largely ignored. So it is not surprising that with very close and frequent deadlines for newworks, "older" compositions seldom received multiple performances. Consequently, Vivaldi and his very pragmatic contemporaries borrowed from themselves (and often others) to meet upcoming deadlines. 
—Jay Fishman
---
Symphony No. 101, Clock
by Franz Joseph Haydn (1732-1809)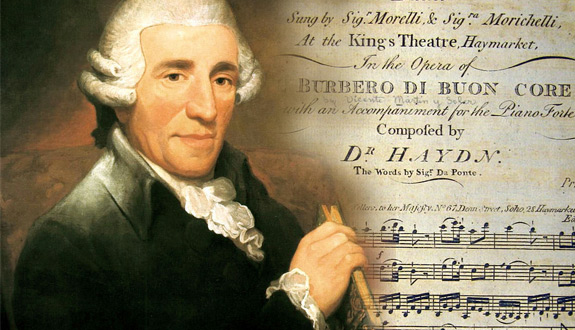 Franz Joseph Haydn is commonly credited with being the father of the classical symphony. Because he had the luxury of consistent financial security, and the opportunity to work with quality musicians over a long period of time, he was able to develop slowly and methodically as a composer and craftsman.
Haydn was born in Lower Austria and died in Vienna. He spent the years of 1761 to 1790 in the employ of Esterhazy family – first with Paul Anton, and after his death, his brother Prince Nicolaus. Nicolaus (who had the longer tenure) loved music, and was very supportive of Haydn and his efforts. Nicolaus employed excellent musicians and singers, which gave Haydn a marvelous laboratory to develop and sharpen his compositional skills. The Esterhazy estate became a center for excellent music making and productions, and was described by one French traveler as "having no place but Versailles to compare with for magnificence."
At first Haydn's orchestra was small (his early symphonies generally used few winds and a small string compliment), but over time the size of the orchestra grew, as did the proficiency of its players. Haydn's composing mirrored these changes. The complexities and the lengths of his symphonies increased, and he made more technical demands on his muscians. Over this time frame, the typical four-movement classical symphony format became formalized, largely because of the development of his compositions.
Haydn's fame spread across Europe, and after the death of his patron Prince Nicolaus, he was very much in demand. He was brought to England by the impresario Johann Peter Salomon, who commissioned him to compose two sets of six symphonies. These twelve symphonies (numbers 92-104), which are referred to as theLondon Symphonies, or theSalomon Symphonies are considered to be the pinnacle of the classical symphonic form and the best of Haydn's enormous symphonic output.
Many of these London symphonies have nicknames, somehow related to the musical content. The Surprise Symphonyis named for the sudden loud noises in the slow movement; the Drumrollis named for the opening roll in the timpani. Other symphonies have specific associations, such as the Oxford,because Haydn was awarded an honorary doctorate at one of the town's universities.
Haydn's Miracle symphony nr 96 had quite a story attached to it. Rumors circulated that during the premiere of this work a chandelier crashed from the ceiling to the floor of the concert hall. Fortunately, the audience had rushed to the stage to see the famous composer just before the crash, so no one was hurt by the falling fixture. The lack of injuries was called a miracle, which led to the nickname. Although this is a great story, reality tells a different tale. According to historical records, a chandelier did fall during a concert and no one was injured—but it was during the premiere of Haydn's symphony number 102, not 96. 
The symphony on today's concert has the nickname of the Clock. The name comes from the (in)famous ticking sound of the rhythmic accompaniment in the second movement.
—Jay Fishman
Interesting article – fyi – https://www.theguardian.com/music/2013/jan/24/what-pop-music-owes-classical-masters
---