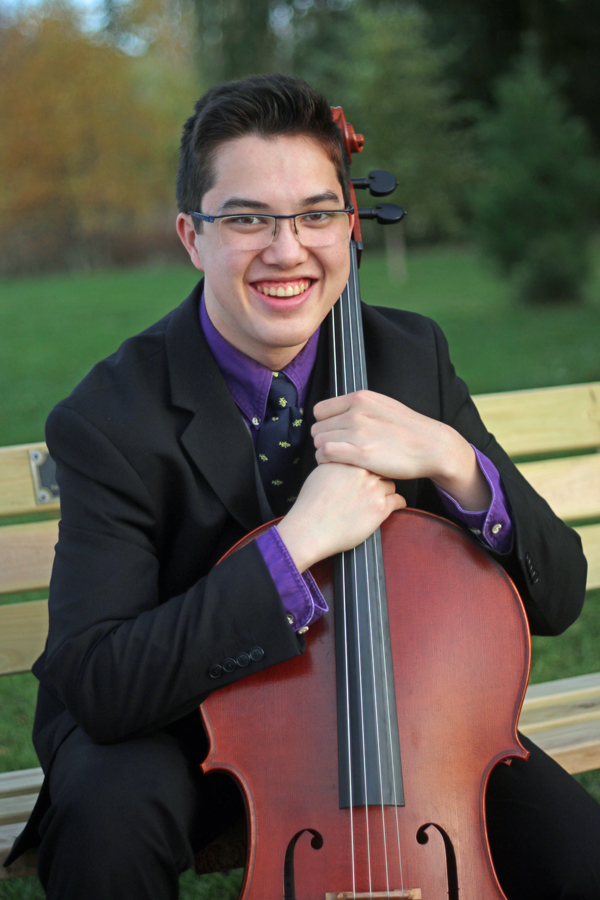 DYLAN KINNEAVY is the winner of the 2019 MN Sinfonia Young Artist Competition.
Intern Kristen Marie Diederichs recently caught up with Dylan and asked a few questions…
KMD: How and when did you start playing cello? What drew you to the instrument?
DK: From the time I was about one and a half, I said I wanted "a violin with a case and a handle." In an early childhood class at MacPhail Center for Music, my future first cello teacher showed me the cello, along with stations with a small violin and cello. The other kids tried them and then moved on, but I stayed for half an hour going back and forth between the two. Eventually I told my parents, "I want to play the cello." When they asked why, I replied, "the violin is too screechy." I then began Suzuki cello lessons just after I turned four years old. The best part about the cello is the sound. The tone of the cello is so rich and can be so human, which I think makes it really connect with a lot of people in a way that most other instruments don't.
KMD: What's your favorite thing about the Lalo, why did you pick it for this performance?
DK: Lalo's Concerto in d minor for cello and orchestra isn't performed much by professional soloists very often and is sort of thought of as a student concerto, which is a shame because it's a really cool piece. There's a lot to learn from it in terms of cello technique from sound production to left hand facility to lyrical singing. The solo cello enters at the beginning after a super loud full orchestra tutti which means this one cello has to be able to match that volume by themselves (or at least try) preferably without hurting themselves. I'm a sucker for slow, lyrical themes and those parts are definitely my favorite moments from this concerto. With the contrast of the fast and loud stuff, the tender moments become so, so special. I started this concerto a few years ago and came back to it this year for college auditions. It's been really fun to kind of re-learn the piece and see how my interpretation has grown. I'm sure it's a piece I will keep playing for years to come, and I look forward to every time I will revisit it in the future!
KMD: What do you enjoy most about being a musician, alone or in an orchestra?
DK: It might sound obvious, but I think the best thing about being a musician is playing music. Music can be so powerful to listen to and so fun to play, especially if you get to play it with fun and great people. I like that playing alone gives the performer the opportunity to really say exactly what they want to, but it's so much scarier to play alone! Playing in orchestra is amazing because you get to be a part of this work that has incredible power and the ability to create amazing soundscapes. I feel that playing chamber music in small ensembles such as a string quartet kind of provides the best of both worlds because everyone is responsible for their own part but also the ensemble sound can sound very big and also create intricate textures.