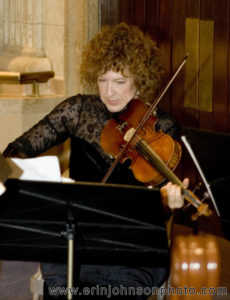 Nanette has played viola with the MN Sinfonia for 19 years. A freelance violinist and violist, she also is the first violinist of the Lake String Quartet. Nanette plays regularly for Broadway shows at the Ordway Theater in St. Paul, is a former member of the Kenwood Chamber and St.Paul Civic Orchestras, and for six years served as principal viola for the Civic Orchestra of Minneapolis.
Nationally recognized artists with whom Nanette has played range from classical to popular, including Charlotte Church, Luciano Pavarotti, Sarah Brightman, Lyle Lovett, Led Zeppelin, The Who, Josh Groban, John Legend and Prince.
She can be heard on many TV and radio commercials, as well as the recordings of local artists the Honeydogs and the Hornheads.
Nanette is a professor of Classical Languages at Macalester College, is an Artist member of the Thursday Musical organization and plays with the Lake String Quartet.