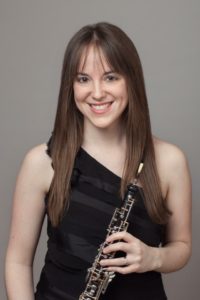 Lindsey earned her Masters in Oboe Performance at the University of Minnesota in May 2013 studying under John Snow, and her Bachelor of Music Degree Summa Cum Laude at the University of Colorado in May 2011.
Along with being the principal oboe of the Minnesota Sinfonia, Lindsey also performs regularly as the principal oboe of the Pavia Wind Quintet. She has also subbed with Minnesota Orchestra, Duluth-Superior Symphony, and Colorado Symphony.
Lindsey has also played principal oboe with Joffrey Ballet and multiple seasons at the Lakes Area Music Festival. She appeared as an artist in residence on live MPR and continues to freelance in the Twin Cities.
On top of performing, Lindsey also teaches oboe through her private home studio in the Twin Cities.