Laurel played with an earlier version of the Sinfonia before moving to California in the early 1980s. While there, she played with the San Jose Symphony Orchestra, which has since folded.
Returning to Minnesota partly because she missed the drama of midwestern weather, after some time Laurel found her way back to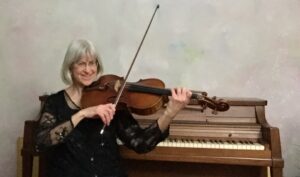 working with Jay. Laurel is also a tenured member of the Minnesota Opera Orchestra, and has played in a number of broadway shows in Minneapolis. She teaches about 20 private violin and viola students through Cadenza Music, and lately she has been enjoying navigating the challenges of teaching remotely.
In her spare time Laurel enjoys reading fiction, using alternate forms of transportation, facilitating group play-and-talk meetings with her adult students, and attending Toastmasters meetings. She is quite proud to have finally made it ONTO the charts as an introvert. In addition to playing violin and viola, she plays entirely different kind of string with her cat, Sasha.