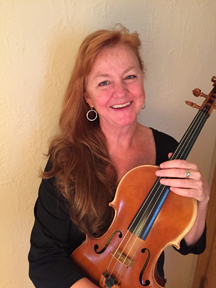 Violist Elizabeth Cregan first heard the rich sound of the viola as a ten year old while attending a concert in her elementary school gym. Elizabeth says her world changed from the moment she heard the beautiful, rich sounds of the viola. Having never heard a viola before, she knew that was what she wanted to do in life – make that heavenly sound. She received her degree in viola performance from the University of Wisconsin – Madison.
Over her career, Elizabeth has performed concerti, chamber music and solo recitals in the U.S., Japan, Ireland, England and Haiti. She has played with some of the finest ensembles in Minnesota, including the Minnesota Orchestra, the Duluth-Superior Symphony, and, the Minnesota Opera. Some of the music legends she has performed with include Luciano Pavarotti, Ray Charles, Yes and Led Zeppelin.  Her two career highlights are premiering the Shulman Viola Concerto in her ancestral homeland of Ireland, and, playing with her favorite rock band, The Who.
Elizabeth teaches viola at St. Catherine University and maintains a private studio in her home. Her students have been accepted into the Cleveland Institute of Music, Peabody Conservatory and the Eastman Conservatory. She is the founding director of The Saint Paul Viola Ensemble, which performs concerts throughout the metro area and has raised thousands of dollars over the years at their fund-raising concerts for organizations such as Red Cross, UNICEF, Haiti Earthquake Relief, Trevor Foundation for LGBTQ, and more.
Elizabeth is an avid sailor and swimmer and spends much of the summer with her family sailing around beautiful Lake Superior.