Please click here for COVID-related updates
Summer Classical I
Wed. Jul 13 Como Park Pavilion 7:00pm
1360 Lexington Parkway North, St. Paul
Fri. Jul 15 Lake Harriet Band Shell 7:30pm
4135 West Lake Harriet Parkway, Minneapolis
Featuring Violin Soloist Charlotte Lee
Program
Overture to CinderellaGioacchino Rossini

Violin Concerto No. 1, movement IMax Bruch
Charlotte Lee, violin (winner of the Minnesota Sinfonia Young Artist Competition, Senior Division)

NocturneLuke Soneral
World Premiere and Recipient of the Minnesota Sinfonia New Works Competition Award, Young Composers' Division
with Support from the McKnight Foundation

Symphony No. 14 in A Major, Opus 21, Number 6Luigi Boccherini

Rhapsody op. 119, #4Johannes Brahms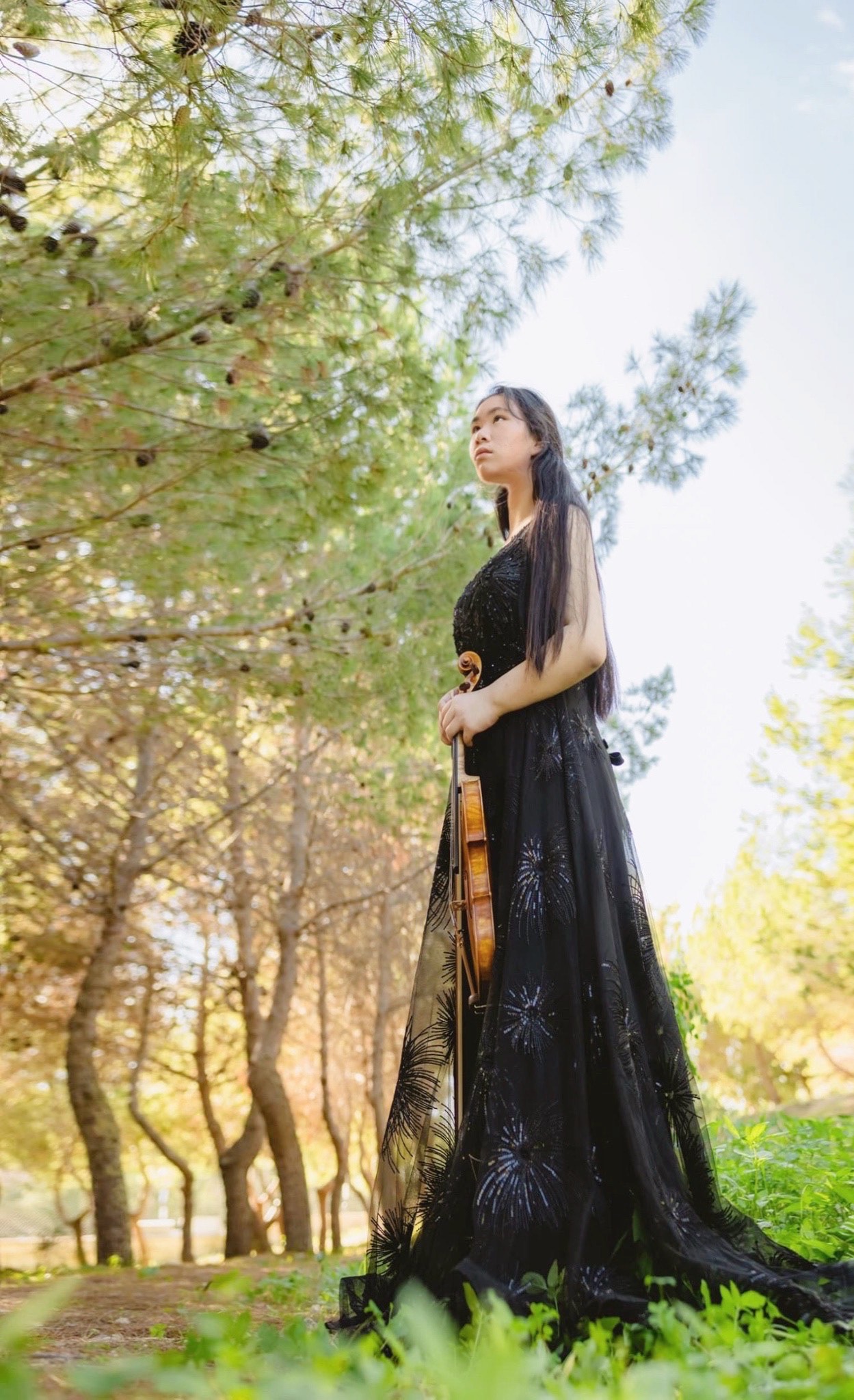 Charlotte Lee is the winner of this year's senior division of the Sinfonia's Young Artist Competition, and winner of the Claire Givens Violins prize. Born in 2006, Charlotte made her performance debut at age six, and since then has won several awards and international competitions, including those in Austria, Germany and Tokyo. Throughout the years, she has made solo appearances in Macedonia, Romania, Japan, Italy, Germany, Poland, England, America and Malta. For this set of performances, Charlotte will perform the first movement of Max Bruch's Violin Concerto in g minor.
Program Notes
Overture to CinderallaGioacchino Rossini (1792-1868)

Gioachino Rossini is probably as well known on the concert stage as he is in the opera house. His overtures are some of the greatest and most popular in the genre. Every child (and adult) knows the music from William Tell (The Lone Ranger), The Barber of Seville, and countless other pieces because of their use in cartoons, movies and even advertisements. Cinderella is another of Rossini's great operas, and the overture, like the others, often is the first work performed on many orchestral concerts.

This opera's overture had a life prior to its association with Cinderella. In 1816, when Rossini was only 24, he signed a contract with Rome's Tratro Valle to create a new work that was to be performed later that year. He soon left and went to Naples, where he started working on several other projects, including an opera, La Gazzetta. This opera was performed but did not garner public interest – most people blame a poorly constructed libretto as the culprit. However, the music was typical Rossini – charming!

Rossini later traveled back to Rome, with a deadline looming for his new opera for Tatro Valle. Matters became complicated when a new opera libretto by Gaetano Rossi was deemed immoral by the censors. Pietro Cartoni was the opera's impresario and was responsible for getting a usable libretto to Rossini. On December 23, Cartoni scheduled a meeting with Rossini; a new librettist, Jacobo Ferretti; and himself, trying to come up with a proper subject that would pass the censors. They came up with several ideas, but none could pass muster. The rest of the story might well be a legend….

Exhausted, Rossini went to bed. But then, according to Ferretti's biographer, Alberto Cametti:
Weary of making suggestions and half falling asleep, in the middle of a yawn, I murmured, "Cinderella?" Rossini sat up straight. And I in turn asked him, "Would you have the courage to write me a Cinderella?" And he: "When can I have the outline?" And me: "You can have it in the morning if I go without sleep tonight." And he (pulling the covers over his head): "All right. Good night."
At any rate, the two started the project immediately, and because he was so short on time, Rossini took the overture to La Gazzetta and used it for the introduction to Cinderella. jf

Violin Concerto No.1. in g minorMax Bruch (1838-1920)
Charlotte Lee, violin (winner of the Minnesota Sinfonia Young Artist Competition, Senior Division)

Max Burch's first violin concerto is one of the most popular works in the entire repertoire. However, when he was writing it, Bruch was very unhappy with his creation, revised it a half dozen times, and generally felt that it would not be a success. Before the first public performance, Bruch brought the concerto to Brahms for the master's approval. Brahms also was not very impressed and was not encouraging. History has proven both Brahms and Bruch wrong. From the first performance, in fact, the concerto became immensely popular. So much so, that it overshadowed all of Bruch's other work. The composer became so frustrated with this success, that in a satiric note he wrote:
Police prohibition concerning M. B.'s First Concerto. As very recently, the astonishing fact has emerged that violins played the First Concerto by themselves, with the utmost dispatch we make it known, for the relief of anguished souls, that we hereby seriously ban the said concerto.
The famous Hungarian violinist Joseph Joachim helped work out the solo violin part to this concerto, as he also did for Johannes Brahms' violin concerto. He wrote:
The Germans have four violin concertos. The greatest, without any reservations at all comes from Beethoven. That by Brahms, in its seriousness, contends with Beethoven. Max Bruch wrote the richest and most bewitching… But the most intimate, the heart's jewel, is by Mendelssohn.
Symphony No. 14 in A Major, Opus 21, Number 6Luigi Boccherini (1743-1805)

In this country, Luigi Boccherini is now best known for his lovely minuet (originally part of a string quartet), and the B flat cello concerto. The latter, which is part of the standard cello repertoire, was not Boccherini's creation, but rather a composite of several of his themes (taken from various works) and forged into a concerto by Friedrich Gruetzmacher.

Today, Boccherini's symphonies are largely forgotten, and rarely played. That is indeed unfortunate, because he had a large and very creative output, and many very good works to his credit. The sinfonia on this concert can best be compared to the early Mozart and Haydn symphonies, which generally were three movements and also relatively short. By adding an extra movement, expanding the lengths and instrumentations, the format later developed into the modern-day classical symphony.

Rhapsody op. 119, #4Johannes Brahms (1833-1897)

Johannes Brahms was deeply routed in the classical traditions of his predecessors, Mozart, Haydn and Beethoven. In a letter, he wrote, "If we can not compose as beautifully as Mozart and Haydn, let us at least try to compose as purely." On another occasion, while working on his First Symphony (at the late age of forty three), he wrote, "You have no idea what it is to hear the tromp of a genius over your shoulder." Later, when someone pointed out the similarity between the theme of this symphony's last movement and Beethoven's Ninth Symphony, he responded, "any fool can see that."

Johaness Brahms lived during tumultuous times, as contemporary music was in a state of flux. The music world was dividing into two camps – those favoring the music of Wagner, and his stretching of harmonies to the point of destroying tonality; and the others who were more circumspect in their thinking. In most respects, Brahms was in the latter camp, but when looking at this division, it is helpful to see it in an historical context. One should recognize that as most composers grow older and mature, they expand their harmonic languages. One need only compare Mozart's Jupiter Symphony, with his earlier opuses, or better still, Beethoven's early output to his late strings quartets, to recognize these changes.

Brahms, like his idles, also pushed some of the boundaries. In a few of the piano intermezzi (various opuses) there are tonal ambiguities and such extensive counterpoint that tonal centers are nearly obscured. No less of a composer and theorist than Arnold Schoenberg noted these advances, and wrote of Brahms' forward harmonic thinking, and the implications of his use of "stretching" the harmonic boundaries. And, as is so often the case, there are no steadfast rules or regulations between opposing sides, and each individual musician must be judged on his or her own particular merits.

The opus 119 contains some of Brahms' last piano works. The pieces are short and intimate. In many respects they are both an homage to an era that has ended, and in their own way, a glimpse towards the future. I was introduced to them by my son Loren's piano practicing. As many of you may know, over the past few years, he has played Mozart's 20th Concerto, Saint-Saens' Piano Concerto No. 2, and 3 Beethoven piano concerti with the Minnesota Sinfonia.

Not being a fluent pianist, I do not know much of the piano repertoire, and so I approached Loren's work both as a learning experience for me, and of course with a dad's pride second to none. As I heard him practicing these pieces, I imagined them to be very suitable for the Sinfonia, and especially the Rhapsody, which I envisioned as a work that would be very good for both indoor and outdoor performances. I saw similarities between the Rhapsody and some of Brahms' symphonic writings, with compact voicings that would present opportunities to create interesting and Brahms-like orchestral sounds. With that, I plunged into the project, and what you hear on this set of performances is the result.

Most of the romantic composers did not write much for chamber orchestra, and Brahms, aside from his two early serenades, composed none that I know of. Consequently, there is a shortage of music from that era in the chamber orchestra repertoire. By creating this and a few other arrangements of romantic music, I have hopes of adding to that repertoire, and at the same time, introducing our audiences to some wonderful music, albeit in a slightly different format from its origins. jf
Please click here for all concert dates!
---