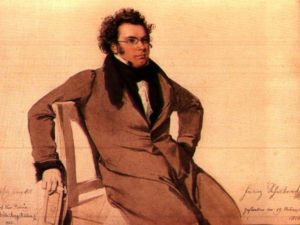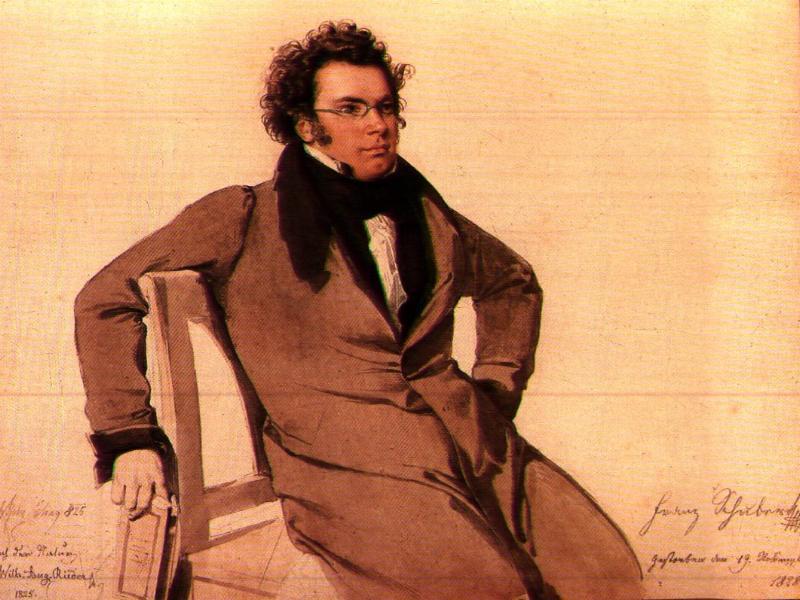 An interesting fact about Franz Schubert is that he is the only master Viennese style composer actually to be born and raised in Vienna.
He studied violin with his father, piano with his older brother, Ignaz and then later with the local church organist, Michael Holzer. It was readily apparent that the young Franz had an enormous talent, and Holzer wrote of his pupil:
If I wished to instruct him in anything fresh, he already knew it. Consequently, I gave him no actual tuition, but merely talked to him, and watched him with silent astonishment. 
Schubert's musical education took a major turn in 1808 when he became a choirboy in the court chapel, which also allowed him to study at the Imperial and Royal Seminary. He had several notable teachers, including Antonio Salieri, who many might remember as Mozart's nemesis. There is considerable question as to the value of Salieri's help, and many scholars have suggested that Schubert's lack of large-scale musical organization might be traced back to Salieri.
Schubert had a love for poetry. The ease in which he was able to create melodies to the texts is remarkable. I remember one of my music history teachers mentioning that Schubert was so talented, that he would start composing a new song even before the ink was dry on the paper of his last.

Between the years of 1811 (when he was a mere 14 years of age) and 1828, Franz Schubert attempted to compose thirteen symphonies. Seven of these were completed, one which although not completed is performed in that version (the Unfinished), and the rest were simply forgotten or neglected.
The fifth, which for me has the most "romantic" tendencies of the first five, was composed between September and October of 1816. It has a relatively small orchestration ( 1 flute, 2 oboes, 2 bassoon, 2 horns and strings – NO clarinets, trumpets or timpani), but even though classical in nature, again, in my opinion, the phrasing and singing qualities go beyond his earlier symphonies, and certainly are trending away from Mozart and Haydn. The symphonies received few performances during his lifetime – some were probably performed at some type of home "musicales" by a gathering of friends and fellow musicians. In spite of the lack of performances, and the fact that these were early works, the symphonies had their admirers then, and of course continue to have to this day. Antonin Dvorak, after seeing the scores remarked:
The more I study them, the more I marvel.
The symphonies composed during a time of transition from the domination of classicists Franz Joseph Haydn and Wolfgang Amadeus Mozart on the early side, and classicist/pre/early romantic Beethoven on the later. One can see influences of all three of these masters in the early symphonies, as the forms, orchestrations, construction of themes, and overall performance lengths were similar to those of the preceding masters. But, these symphonies still had a definite, personal (harmonic and melodic) "Schubertian" stamp, and it is those characteristics that have endured these works to today's public, and have kept them in the standard orchestral repertoire.
—Jay Fishman