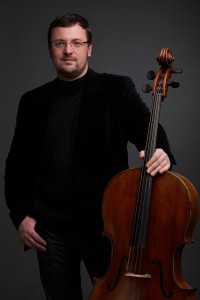 The Minnesota Sinfonia will open it's Winter Concert Season with Romance-Russian Style featuring Dmitry Kouzov performing Tchaikovsky's Andante Cantabile and Pezzo Capriccioso.  The orchestra will also perform works by Mozart and Carl Maria von Webber. A new piece by Jocelyn Hagen, Adagio,will be premiered at these concerts thanks to the support of the McKnight Foundation.  Check out Jocelyn's Bio
Russian cellist Dmitry Kouzov has performed in venues across five continents with orchestras, in chamber music performances and recitals. He has appeared in command performances for Mikhail Gorbachev and Prince Andrew, Duke of York.
Friday, October 9
7:00 p.m.
Metropolitan State University
700 E. 7th St.
St. Paul, MN
Sunday, October 11
2 p.m.
Basilica of Saint Mary
88 North 17th St.
Minneapolis, MN