Program Notes
OCTOBER 25, 2019 | Friday (7 p.m.)
METROPOLITAN STATE UNIVERSITY
FOUNDERS HALL
387 Maria Ave, St Paul, MN 55106
Campus map
OCTOBER 27, 2019 | Sunday (2 p.m.)
BASILICA OF SAINT MARY
1600 Hennepin Ave, Minneapolis, MN 55403
Directions & parking
---
Flourishes
Kirsten Broberg (b 1979)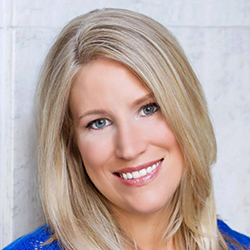 Flourish is a colorful and celebratory piece that journeys through a wide range of styles of music and emotions. It contains much fanfare and is laced with gestural flourishes throughout. Flourish was composed as a concert opener for the Minnesota Sinfonia's first concert of their 2019-2020 season and is dedicated with admiration to the organization with gratitude to the McKnight Foundation for their support. —Kristin Broberg
This work is part of the Minnesota Sinfonia's Call for Scores by Minnesota-based composers with financial support from the McKnight Foundation. 
---
Violin Concerto #5 in A Major, K 219
Wolfgang Amadeus Mozart (1756-1791)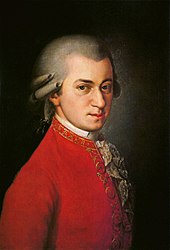 I declare to you before God, and as an honest man, that your son is the greatest composer I know, either personally or by name.
—Franz Joseph Haydn to Leopold Mozart
Wolfgang Amadeus Mozart was born in Salzburg in 1756, and died in Vienna in 1791. He is best known as the boy genius who gave us hundreds of wonderful operas, symphonies, concertos, songs, etc. Thanks to the play Amadeus, and the movie that followed, he is often remembered as a prankster, a fun loving child who never grew up, and a genius who was just able to spin out one masterpiece after another. Life of course is never that simple, nor was his life the happy fairytale one so often wants to assume.
The young Mozart started music lessons at age three with his father Leopold, who in his own right was a well known and respected violinist and teacher. By age five, the young Wolfgang had progressed enough to begin public performing and composing. Soon thereafter, Leopold took both Wolfgang and his sister (who also was a talented musician) to Vienna to show them off. The boy's reputation preceded them, and he was already called the "little magician." The child Wolfgang performed for the royal court and was a smash hit. After the performance, he jumped into to the lap of the empress, and kissed her. The court went wild, and according to a quote from the time, "all the ladies lost their hearts to the little fellow." The children's early childhood was filled with many successful trips, playing concerts, and meeting important leaders and musicians. During these travels, the young Mozart continually studied and learned under the direction of his father.
Mozart's life and career had many ups and downs. At times he was very popular and at other times, he was all but neglected. Like his popularity, his finances also had many fluctuations – sometimes he was wealthy, and at other times he was poor. In spite of the uncertainties, he was able to create more than 600 works, many of which remain popular in today's repertoire. Included are 41 numbered symphonies, and 27 numbered piano concerti.
Mozart composed his five violin concertos during the span of April and December of 1774, when he was only nineteen. There seems to be some question as to who they were composed for, most likely a violinist named Brunetti. As it turns out, there were several violinists named Brunetti, and one theory is that they may have been written for Antonio Brunetti, who later became the concertmaster of the Salzburg opera. Given Mozart's connection to the city and its opera, this seems to be a reasonable conjecture. However, there was another violinist name Gaetano Brunetti who was largely associated with Boccherini, but who had dealings with Mozart, and, for whom Mozart did compose some music. So the questions remain unanswered.
This and the rest of the concerti are all scored for relatively small orchestra (2 oboes, 2 horns and strings), and technically are not the virtuosic tour de forces that one might expect from the young Mozart. In fact, the last three (the most famous and popular of the concertos) all end quietly – peacefully – and not with the grand rush of loud and exciting flourishes that would attract the shouts of bravos and standing ovations. For any other composer, this would surely be a disappointment. But for Mozart, another demonstration of his genius. —Jay Fishman
Our soloist for this concert is Grace Park, who was the 2018 winner of the Naumburg International Violin Competition. These concerts mark Ms Park's debut performances with the Sinfonia. — JF
---
Brandenburg Concerto No. 3, BWV 1048
Johann Sebastian Bach (1685-1750)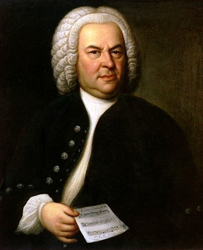 Johann Sebastian Bach spent most of his life in what is now modern-day Germany. The historical period in which he lived is called the Baroque era, a time that was heavily dominated by the church and nobility.
Nearly all of Bach's music was written for the church, and generally he had to produce new works (choral and organ) every week for the Sunday services. Even with this extensive commitment, and his personal obligations to his family (he had 20 children), he did find time to compose a few secular orchestral works, the most famous of which are undoubtedly the six Brandenburg Concertos and the four orchestral suites. Bach also composed several keyboard and three concertos for violin. They too have remained very popular, and are often heard in today's concert halls.
The Brandenbug concertos which were composed in 1721, were given to Christian Ludwig, Margrave (inherited title of military commander) of Brandenburg-Schwedt as a "gift" (bribe) so that Bach hopefully could gain a new position. His dedication of the music was very flattering to the Margrave:
As I had the good fortune a few years ago to be heard by Your Royal Highness, at Your Highness's commands, and as I noticed then that Your Highness took some pleasure in the little talents which Heaven has given me for Music, and as in taking Leave of Your Royal Highness, Your Highness deigned to honour me with the command to send Your Highness some pieces of my Composition: I have in accordance with Your Highness's most gracious orders taken the liberty of rendering my most humble duty to Your Royal Highness with the present Concertos, which I have adapted to several instruments; begging Your Highness most humbly not to judge their imperfection with the rigor of that discriminating and sensitive taste, which everyone knows Him to have for musical works, but rather to take into benign Consideration the profound respect and the most humble obedience which I thus attempt to show Him.
In spite of the flattery, not to mention the amazing compositions, Bach did not get the new position. It was awarded to Georg Philip Telemann.
Johann Sebastian Bach did not invent the concerto – in fact, his were heavily influenced by the Italian contemporary, Antonio Vivaldi. Groves Music Dictionary quotes Bach's first biographer, Johann Nikolaus Forkel, who in 1802 wrote,
Vivaldi violin concertos, which had just recently appeared [1711-12], served him [Bach] as a guide… he studied the part writing, the relationships between the various parts, the variance of the modulations [key changes], and many other things.
Bach's concertos, including the six Brandenburg are all concerti grossi, meaning that the solo voices (which could be from two to several different instruments, and in fact varied from concerto to concerto), would alternate between playing solo melodies and then joining the rest of the orchestra as part of tutti, thereby creating a bit of a competition between the soloists and the rest of the orchestra.
For the third concerto, he created nine separate string parts – three for violins, three for violas and three for celli (with the bass being part of the third part). Although all of the parts are separate, the first of each group had solos that are prominent, and in these cases, the remaining players formed the tutti accompaniment.
Although these works are now considered some of the best examples of music composed during the times, such was not the case in Bach's lifetime. As with much of his music, after he died it was "put on the shelf," and largely forgotten. It was not until many years later that composer and conductor Felix Mendelssohn found and performed some of the music. Others soon followed suit, and soon Bach and his music gained the acceptance and fame that we now know today. —Jay Fishman
---
Symphony in G Major Opus 6 no. 3
Johann Christian Bach (1735-1786)
Johann Christian Bach (also known as Christian and or J.C. Bach) was the 18th child of Johann Sebastian's 20 children, and like many of his siblings became a composer of some reknown. Although he was born in Germany and raised as a Lutheran, at age 20 he moved to Italy where he studied music composition, converted to Catholicism, and then wrote music for the church.
He later moved to England, and in 1762 began composing for the King's Theater in London, for which he produced several successful operas in the Italian style. During this time, he also composed several orchestral and chamber works, as well as music for keyboard and some cantatas. In 1764 he joined forces with the much heralded viola da gamba player Karl Friedrich Abel, and started a very popular concert series. Because he lived in London, he eventually became known as the "London" or "English Bach."
Christian Bach's music (and that of his contemporaries) was a rebellion against the music of his father Johann Sebastian Bach, Georg Philip Telemann, Georg Frederic Handel and the many other composers of that time who composed in a style that we now label as the "high Baroque" – approximately 1700-1750. That music tended to be very involved, contrapuntal (lots of contrasting music lines often piling one on top of the other) and complicated.
The new music by J.C. Bach and his contemporaries was lighter, less involved and was actually called "rococo" or "gallant." This simpler and less complicated style of composing was considered more elegant than its predecessors. And in fact, in Germany, the music was call empfindsamer Stil– which translates as in a "sensitive style."
Most of these sinfonias were three movement works, as were the early symphonies of Haydn and Mozart. These sinfonias by Mozart and Haydn later developed into four movement and longer compositions, and laid the foundation for what we now consider the "classical" style of the later 1700's early 1800's. —Jay Fishman
---
Introduction and Allegro for Strings, opus 47
Edward Elgar (1857-1934)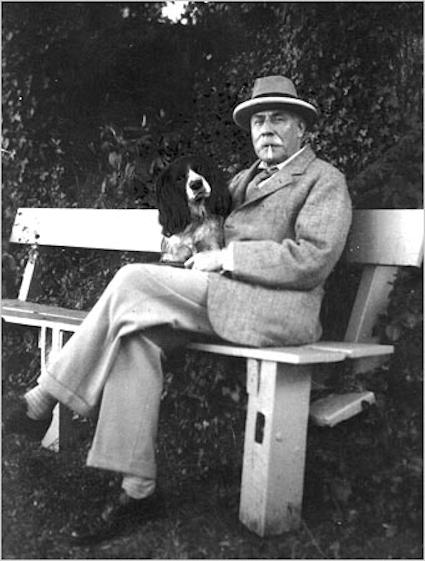 Edward Elgar who is generally regarded as England's most prominent romantic composer, is best known for only a handful of orchestral works. The Enigma Variations, The Cello Concerto, The Pomp and Circumstance Marches, the Introduction and Allegro, and a few smaller works for strings are undoubtedly the most popular and recognizable from his output.
At the onset of his career, aside from violin lessons from a local teacher, he was largely self-taught. He had ambitions to study in Leipzig, but because of family financial limitations, those dreams went unfulfilled. Consequently, his early works were not particularly well crafted, and even though they were performed in his native Worcester and surrounding communities, generally they have been dismissed as being undistinguished. In those early years, he made his living by teaching, playing organ in the local churches and violin in the area orchestras, one of which was conducted by Antonin Dvorak.
As Elgar developed his compositional skills, and even after he became famous (largely because of The Enigma Variations), his music seemed to be out of touch with English critics. A quote from E.J. Dent on modern English music stated,
For English ears, Elgar's music is too emotional and not quite free of vulgarity.
Even though a number of well-known composers and critics including George Bernard Shaw came to his defense, and the British Broadcasting Corporation continued to play his music on the radio, Elgar's popularity in the concert hall diminished.
The Introduction and Allegro for Strings is a tour de force for solo quartet and strings, and was first performed in 1905, by the recently created London Symphony. It is a virtuosic work, and was meant to show off the talents of the newly created orchestra's string players. It is a very romantic version of the concerto grossostyle, which is a throw back to the times of Bach and Handel. In those works, the soloists (almost any small combination of instruments) would be featured, sometimes by themselves with sparse accompaniment, and then be joined by the rest of the orchestra for what was called the "tutti," which in musical terms means "playing all together."
Elgar's work uses some of the same features, but is generally more expansive, with fanfares, and as already suggested, very demanding technical passages, both for the soloists and for the tuttis. At its first performances, the audience reception was not very enthusiastic. History has shown that reaction to be misguided, as over time, the Introduction and Allegro for Strings is now considered to be one of the composer's best works, and has remained a fixture in today's modern orchestral repertoire. —Jay Fishman