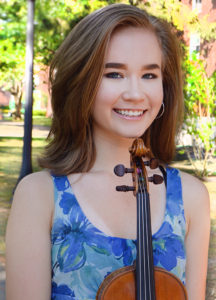 Sixteen-year old violinist, Katia Tesarczyk began studying violin at the age of 4 with Lucia May. Currently a student of Sally O'Reilly, she attends Central High School in Saint Paul.
Katia plays on an 1870 Paul Bailly violin, generously on loan to her by the Virtu Foundation.
Katia's many accomplishments include:
Laureate of the 2017 National Sphinx Competition Junior Division, and the 2016 National MTNA Competition Junior Division
First prize winner in the Schubert Club Competition, Thursday Musical Competition, Dakota Valley Symphony Young Artist Competition, and MTNA West Central Division Junior Strings Competition.
Two-time winner of the Minnesota Sinfonia Concerto Competition in the Junior (2015) and Senior (2017) categories
Three-time winner of the Mary West Competition for Strings in the Elementary (2012), Intermediate (2016) and Junior (2017) Divisions.
Recipient of the William and Stephanie Krueger Award in the 2017 LaCrosse Symphony Orchestra's Rising Stars Concerto Competition; and the Edwin Norberg Award in the 2017 YPSCA School Music Auditions.
Her soloist work includes performing with the Sphinx Symphony Orchestra, the Minnesota Sinfonia, and the Dakota Valley Symphony Orchestra.
Katia was a scholarship student at the Bowdoin International Music Festival, and attended Orford Music Festival in Québec, Pienza Music Festival in Tuscany, and Bravo! String Institute in Minnesota.
She has performed in master classes given by Ilya Kaler, Yair Kless, John Gilbert, Henning Kraggerud, Almita Vamos, and Sergiu Schwartz.
See her in concert with the Sinfonia
Dec. 1, 2017 | Friday, 7 p.m.
FIRST COVENANT CHURCH
1280 Arcade St, St Paul, MN 55106
(directions) Park in Lot
Dec. 2, 2017 | Saturday, 2 p.m.
BASILICA OF SAINT MARY
1600 Hennepin Ave, Minneapolis, MN 55403
(directions & parking)