Overture to The Barber of Seville
Gioachino Rossini (1792-1868)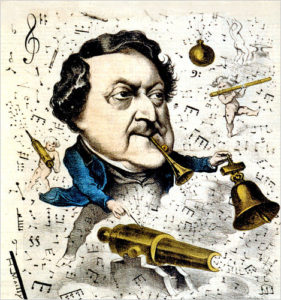 Gioachino Rossiniwas the most prominent Italian composer of his time. He is best known for his comic operas, and of course for the marvelous overtures, which today are often taken out of context and used as orchestra concert openers. He came from a family of musicians – his father was a horn player and his mother a singer. His father was also an outspoken Republican, and during Gioacchino's early years, his father was jailed for his political views. During that time, Rossini's mother had to take singing jobs to pay the bills, and so the young Gioacchino was exposed to many operas—and once he started composing operas, his successes came early and often.
As Rossini's fame spread, he became so important that he was exempted from military service. In mid-career, he began expanding his efforts to Europe, especially to France. It was during this time that he composed two very important works; Le Comte Ory and Guilliame Tell (William Tell,known to many of us for the overture that was used as the theme music to the classic TV show, The Lone Ranger).
Rossini composed 39 operas in 39 years, most of them were very successful. Then, he retired. There have been all kinds of speculation as to why he stopped writing. Some thought he was lazy, and others guess that he might have suffered from physical and mental exhaustion. Although it is difficult to prove, the latter seems to make the most sense.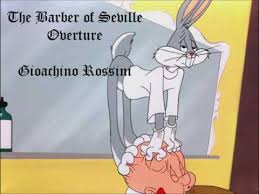 Today, his overtures are considered to be some of the greatest and most popular in the genre. And they are very versatile as well. It is probably fair to say that most children (and adults) are familiar with his music, not because of orchestra concerts or opera performances, but rather because the music from the William Tell, The Barber of Seville, and countless other pieces have been used as background music for cartoons, movies and even advertisements. Perhaps we are just updating some very appealing, timeless and thoroughly engaging masterworks.
– Jay Fishman
Symphony No. 94 in G Major, The Surprise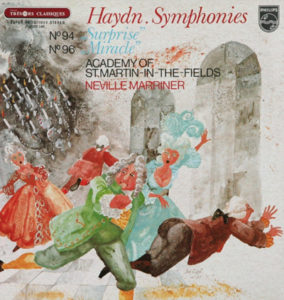 Franz Joseph Haydn (1732-1809)
Franz Joseph Haydn (born in Lower Austria in 1732 and died in Vienna in 1809) is commonly known as the "Father of the Classical Symphony."
Because he had the luxury of consistent financial security, and the opportunity to work with quality musicians over a long period of time, he was able to develop slowly and methodically as a composer and craftsman.
Haydn spent the years of 1761 to 1790 in the employ of Esterhazy family – first with Paul Anton, and after his death, his brother Prince Nicolaus. Nicolaus (who had the longer tenure) loved music, and was very supportive of Haydn and his efforts. He employed excellent musicians and singers, which gave Haydn a marvelous laboratory to develop and sharpen his compositional skills. The Esterhazy estate, which was described by a French traveler as "having no place but Versailles to compare with for magnificence," became a center for excellent music making and productions.
At first Haydn's orchestra was small (his early symphonies generally used few winds and a small string compliment), but over time the size of the orchestra grew, as did the proficiency of its players. Haydn's composing mirrored these changes. The complexities and the lengths of his symphonies increased, and he made more technical demands on his musicians. Over this time frame, the typical four-movement classical symphony format became formalized, largely because of the development of his compositions.
Haydn's fame spread across Europe, and after the death of his patron Prince Nicolaus, he was very much in demand. He was brought to England by the impresario Johann Peter Salomon, who commissioned two sets of six symphonies. These twelve symphonies (numbers 92-104), which are referred to as the London Symphonies, or the Salomon Symphonies are considered to be the pinnacle of the classical symphonic form, and the best of Haydn's enormous symphonic output.
Titles on symphonies were considered easy identifyers and marketing tools. Generally, most of these nicknames were somehow related to musical or personal content. Examples include the Oxford, because Haydn was awarded an honorary doctorate from one of the town's universities, the Clock because of the constant "ticking" sound of the regular rhythm in the second movement, the Drumroll because of the opening roll of the timpani and the Surprise (which is heard on this set of concerts) because of the sudden loud noises in the slow movement.
The last 12 symphonies are amongst Haydn's most popular, not only because they are his last, but also because they are some of his very best. The popularity of the Surprise Symphony also may be attributed to the fact that the two symphonies before and after it did not have names attached to them. This may have helped the symphony to be easier to identify, and hence of more interest to the general public. All specuation to be sure, because regardless of what came before or after it, for me, this symphony is one of Haydn's greatest creations, and one of the most enjoyable to perform.
– Jay Fishman
Symphony No. 1 in G Major, op. 11
Joseph Bologne, Chevalier de Saint-Georges (1745-1799)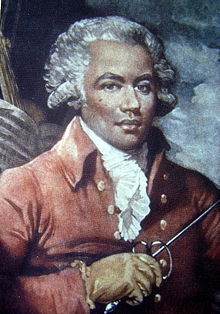 A composer and violinist who is generally considered to be the first classical composer of African descent, Joseph Bologne was born on the Caribbean island of Guadeloupe. He was the son of George Bologne de Saint-Georges, a wealthy planter, and Nanon, his African slave.
In 1753 the family moved to France, where the young Joseph was sent to a boarding school to receive his education, including special training for fencing and horseback riding. He soon became an expert fencer, rider and dancer, and gained fame across France for these skills.
Aside from rumors, little is known about his early musical studies and training. He must have been a very good and quick study on the violin, as several of France's leading composers wrote concerti for him to play. As his musical reputation spread, he was chosen to hold several very important posts, including the concertmaster and conductor positions for Le Concert des Amateurs.
Under his direction, the orchestra became one of the most prestigious in the land. However, in 1781, because of his patrons' overwhelming financial problems, the orchestra had to be disbanded. Joseph immediately went to his friend, Philippe D'Orléans duc de Chartres, who then helped provide the money needed to create a new orchestra, the "Concert Olympique."
The new orchestra, with many of the same players as its predecessor, soon gained a reputation for excellence. In 1785, a member of the cello section, Count D'Ogny, gave Saint-Georges permission to commission six symphonies from Franz Joseph Haydn, who was the most famous composer of the day. Saint-Georges was the conductor for these six "Paris" symphonies which were first performed at the Salle des Gardes-Suisses of the Tuileries, a much larger than normal concert hall, in order to accommodate the huge public desire to hear the new works.
St. Georges composed in nearly all genres, and his output included several string quartets, songs and other of chamber works, two symphonies, twelve violin concertos, eight symphony-concertantes (concertos for two instruments) and six comic operas.
Although quite popular in his day, his music later fell out of favor, and was largely forgotten. This is unfortunate, not only because of the historical context, but also because he composed some delightful, energetic and thoughtful music that should still be in today's repertoire.
– Jay Fishman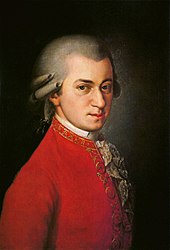 Symphony No. 35 in D Major, K 385, Haffner
Wolfgang A. Mozart (1756-1791)
So much has been written about Mozart the "boy genious," his remarkable musical creations and his many ups and downs both financially and personally. Today, when one thinks about Mozart, invariably it is about his musical creations, whether they be his 27 piano concertos, 5 violin concertos, 41 symphonies, 22 operas (10 of which he composed as a teenager), and the enormous output of chamber music. One can readily forget that his day to day life could be both exhiliating and at the same time filled with stress and anxiety.
Mozart's last six symphonies are generally considered to be his best. The first of these works was the Haffner, composed in 1782. The last three symphonies were written during the summer of 1788, just three years before his death.
In 1776, Mozart was commissioned to compose a serenade for the wedding of a family friend, Sigmund Haffner. Haffner was the mayor of Salzburg, and helped support Mozart's European tours. Later, Haffner's son was awarded with an aristocratic title, and more music was requested. The result was a new serenade, which became know as the Haffner Serenade, and was a six movement composition that reflected the festive nature of the occasion.
In December of 1782, Mozart was going to present this new serenade in concert, and asked his father to send him the score and parts. Later, in February of 1783, Mozart needed a symphony to present at an upcoming concert series. He was short on time, and so started looking at the second serenade. He dropped two of the original movements – a march and a minuet – added a few winds to fill out the orchestration, and with that created his Haffner Symphony. When he finished the work, he wrote to his father
My new Haffner symphony has positively amazed me, for I had forgotten every single note of it. It must surely produce a good effect…"
The performance of the "new" symphony was very successful, and in another letter to his father, Mozart wrote
The theater could not possibly have been more crowded and all the boxes were taken… But what pleased me most was that His Majesty the Emperor was there too, and that he was so pleased, and what loud applause he gave me… It is his custom to send the money to the box office before he comes to the theater, otherwise I might really have expected more from him, for his satisfaction was boundless.
This truly is an amazing work, and what I find most intriguing, is that Mozart completely forgot about it. When one considers all of the magnificent music he created, and at such a consistently fast pace, maybe one can understand, but still….
– Jay Fishman