Teaching Core Studies and Music
Music in the Schools (MIS) is the Sinfonia's inner-city education program. Every year, the orchestra works with up to 12,000 elementary students and helps them learn core subjects in exciting new ways–through music!  Music in the Schools is designed specifically for public elementary students of Minneapolis and St. Paul's diverse population with limited in-school arts opportunities. MIS uses classical music to excite students about math, history, science, social studies and literature, while providing a much-needed part of their arts education.
How does MIS work?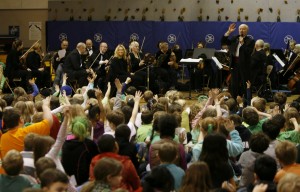 Each MIS program starts with a three-month curriculum, co-developed by the Sinfonia and local teachers. The curriculum combines classical music excerpts with academic concepts drawn from Minnesota state education standards, and focuses on a different subject each year.
Past programs include History as Seen Through Music, which used Aaron Copland's A Lincoln Portrait to introduce President Abraham Lincoln, his speeches and his role in the Civil War. The Magical Mysteries of Math & Music used Franz Joseph Haydn's "Surprise" Symphony and other well-known classical works to help explain a variety of mathematical concepts. The 2009-2010 program, Music From Other Lands, presented classical music derrived from folk songs to help students explore the peoples and cultures of the world while reinforcing state-mandated vocabulary and map-reading skills.
Sinfonia Day!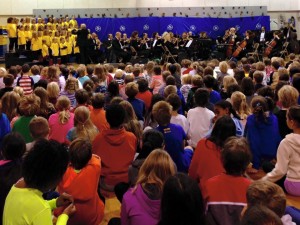 The culmination of each Music in the Schools program is 'Sinfona Day' — a visit from the entire Minnesota Sinfonia to each participating school.  As part of the festivities, classrooms host visits from orchestra musicians, who interact with the students and share their own stories and experience.  Following these get-togethers, everyone gathers in the gymnasium for a fun, interactive concert highlighting the music and classroom activities from the preceding weeks As part of the concerts, school choirs and orchestras perform wth the Sinfonia in front of their peers, parents and community members, all to rousing cheers from their friends and fellow classmates.
What Participants Say: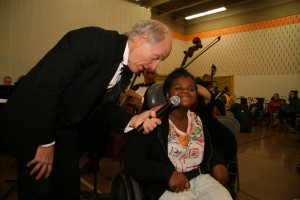 That was a WONDERFUL experience for our classroom. The students were very engaged.  I would totally love for them to come again.  None of my students had ever visited a live orchestra and were very excited during the performance.
–Kathy Clennon, Special Education Teacher, Bridge View School
Wow! Thank you for a quality educational experience. What a treat!
– Fifth Grade Teacher at Jefferson Community School, Minneapolis Public Schools
This really is the finest musical experience we have. Some of my students are already asking their parents to bring them to one of your concerts!
– Anonymous Teacher
The performance was a tremendous hit with everyone. I can't thank you enough
– Colleen Baumtrog, Principal, Minneapolis Public Schools
Thank you for coming to our school. Your performance was terrifi! I loved your music…Your Band was wonderful…  All The-Kids was clapping… Our school was so glad to see you… It was fun hearing all of your beautiful sounds of your instrument's! I just loved the music.
– Excerpts of letters from students from Minneapolis/St. Paul Schools
Attending a Concert
To attend an MIS concert, please contact the Sinfonia office for a schedule and the appropriate school at least one week before concert day in order to gain security clearance from the schools.
Free to schools
Music in the Schools is offered free of charge to participating elementary schools. Like all the Sinfonia's programs, MIS is supported by generous contributions from corporate, foundation and individual sponsors. To date, over 150,000 students have participated in this unique and innovative program. Thank you to all our generous Contributors and these corporate and foundation sponsors:
How You Can Help
The Sinfonia's commitment to our public schools is total and unwavering. The orchestra works with over 20 schools and 12,000 children every year, and our goal is to increase those numbers to 40 schools and 25,000 children annually!  Please visit our Support page to find out how you can help.