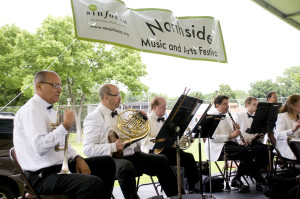 The Sinfonia partners with local communities, foundations and corporate sponsors each year to offer Music and Arts festivals to under-served Minnesota communities.
The 2014 festivals were held at North Commons Park in Minneapolis and the Medtronic Rice Creek Campus in Fridley. Each festival had two days of activities including:
Specialized children's performances
Art, music and dance activities run by local artists and organizations
Live performances by local groups including, but not limited to, singer Cameron Hughes and the Fridley Community Theater
New adaptations of The Nightingale, composed by Jay Fishman and performed by the Minnesota Sinfonia and dancers from the Lundstrum Center for the Performing Arts and 'nMotion Dance Center.
For more information on these festivals please contact the Sinfonia Office at 612-871-1701 or mnsinfonia@mnsinfonia.org