Our Mission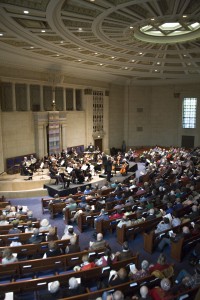 The mission of the Minnesota Sinfonia is to serve the musical and educational needs of the citizens of Minnesota, with special emphasis given to families with young children, inner-city youth, seniors and those with limited financial means. To further this end, all concerts are offered free of admission charges, and children are welcome and encouraged to attend all performances.
In keeping with the goal of the Americans with Disabilities Act (ADA), the Minnesota Sinfonia is committed to ensuring its programs and services are accessible to people of all abilities.
Music for Everyone
In the 1980s, conductor Jay Fishman had a remarkable idea. He envisioned a professional, top-quality orchestra that would dedicate its services to the underserved and low-income residents of Minnesota. In 1989, he created the Minnesota Sinfonia, a professional chamber orchestra whose mission was to serve families, children, inner-city youth, seniors, and those with limited incomes.
Early on, the Sinfonia developed policies of free admission and children welcome to all performances. As a result, Sinfonia concerts consistently attract large audiences of first-time concertgoers, families with young children and people from all walks of life.
As one of the three major professional orchestras in the Twin Cities, the Sinfonia is the only one to offer all concerts free of admission charges, to perform in accessible neighborhood locations year-round and to welcome children to every performance. The Sinfonia is dedicated to community service and education. Each year, the Sinfonia performs more free, in-school concerts than any professional orchestra in the state, allocating over 30 percent of its budget and half its concerts to educational programs. Our guiding values are quality, accessibility and education.
Exceptional Quality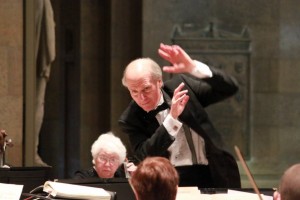 To maintain an orchestra of high artistic quality, the Minnesota Sinfonia attracts and retains the region's best professional freelance musicians. Sinfonia musicians come from all over the world. Most have graduate degrees from major universities or conservatories, and many have prestigious private teaching studios. Several have performed with major orchestras, and more than half have been with the Sinfonia for over ten years — many for over twenty.
The Sinfonia performs both classical and family "pops" programs, all free of charge and open to the public. Concert sites include beautiful venues such as the Basilica of Saint Mary in downtown Minneapolis, scenic outdoor settings like the Lake Harriet Bandstand, and even school gymnasiums in Minneapolis and St. Paul's public schools. Every year, the Sinfonia plays up to 80 free-admission concerts and features award-winning national and international guest soloists. According to the Star Tribune, the Sinfonia's performances are "easily on par with that of any major Minnesota ensemble."
Open to All
The Minnesota Sinfonia is committed to reaching underserved populations, especially nontraditional concertgoers. Since it was formed in 1989, the orchestra has continually striven to eliminate barriers that have kept people from attending orchestra concerts.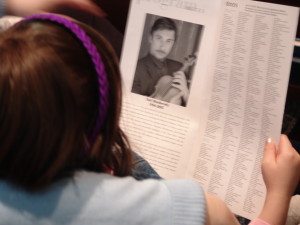 To remove the most obvious barrier to the arts, the cost of tickets, the Sinfonia offers all concerts free of admission charges. To serve families and children who feel unwelcome at formal events, the Sinfonia creates a family-friendly atmosphere at every concert, and always encourages parents to bring their children. To reach people unable to commute, the entire orchestra travels to accessible community locations, allowing citizens to enjoy quality orchestral music in their own neighborhoods. And to reach those who suspect orchestral music is stuffy, the Sinfonia programs a variety of concert formats, some classical, some "pops" and some especially for young children. All concerts are characterized by an informal atmosphere, and welcoming, enthusiastic energy from the musicians and conductor.
Commitment to Education
The Sinfonia commits half its performances and over 30 percent of its annual budget to educational programs. Every spring, the orchestra holds its Young Artist Competition — an opportunity for young musicians to win solo appearances with the Sinfonia. During the summer, 25 talented local student musicians participate in the orchestra's Youth Outreach Week to experience "a week in the life" of a professional musician, participating in a series of intensive orchestra rehearsals, which culminates in a joint public performance with the Sinfonia.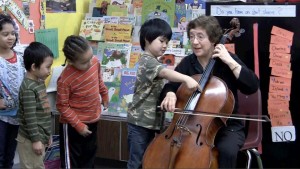 The Sinfonia is best known for Music in the Schools, its inner-city education program. Every year, the orchestra works with up to 12,000 elementary students and helps them learn their core subjects in exciting new ways–through music!  Using state educational standards as the basis, Music in the Schools (MIS) is designed specifically for public elementary students of Minneapolis and St. Paul — a diverse population with limited in-school arts opportunities. MIS uses classical music to excite these students about math, history, science, social studies and English, while providing a much-needed part of their arts education.
MIS is given to the districts and students of Minneapolis and St. Paul Public Schools free of charge. Like all Sinfonia programs, MIS is funded through the generosity of corporate, foundation and individual supporters. To date, over 150,000 students have participated in this unique and innovative program Click here for more information about Music in the Schools.
How You Can Help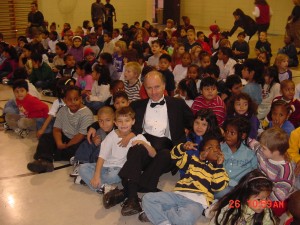 Whether performing free-admission concerts, inspiring inner-city students, or fostering a young musician's talent, the Minnesota Sinfonia relies on your support. The Sinfonia is a fiscally conservative organization, allocating 80 percent of its expenditures to support the artistic product; every dollar is carefully spent. Please visit our Support page to learn how you can help us continue sharing music with people from all walks of life, all over the Twin Cities.